| | |
| --- | --- |
| Publisher | Cocoa Gaming |
| Platforms | Android 4.0 and up |
| Price | Free |
| Size | 13 MB |
| Latest Version | 5.0 |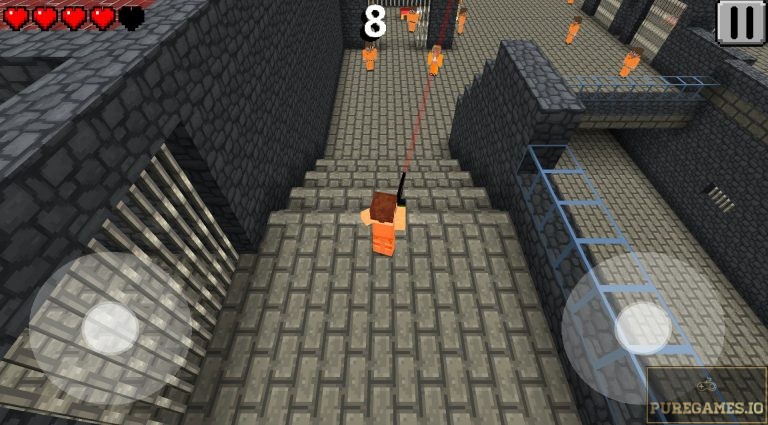 Jailbreak Escape Craft takes you to a thrilling and action packed adventure. As what the title suggests, if you download Jailbreak Escape Craft, the game prompts you to a Minecraft-inspired prison. Your main objective is simple, escape the prison and kill everyone you will encounter along the way. It might sound simple but the game is surprisingly tricky and at some point, frustratingly challenging.
We've seen a lot of Minecraft clones dominating both Android and iOS app stores and these games will either give distinctive elements for them to stand out while others are nothing more but disappointment. So where exactly Jailbreak Escape Craft belongs to? This review will give you more details and what exactly to expect when you download Jailbreak Escape Craft.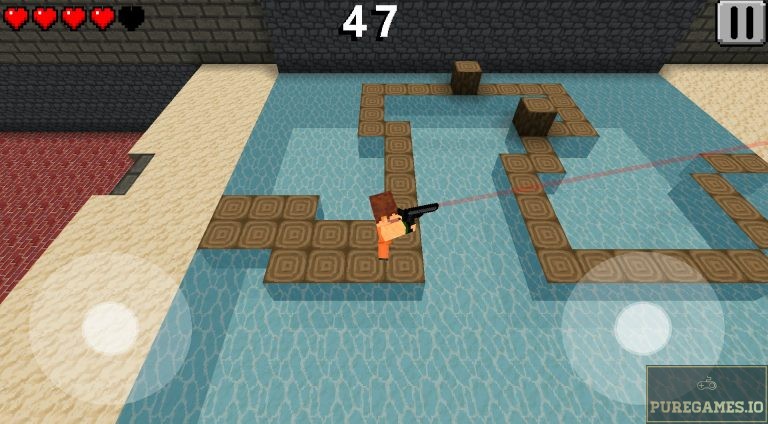 The Gameplay
Interestingly, the game is available in two different campaigns; the Jailbreak Escape and the Creative & Survival Mode. Jailbreak Escape is basically the main campaign. The goal is to help your character escape the prison. This however is not going to be an easy task because the prison is guarded by an overwhelming amount of prisoners and police officers. With your trusty gun with infinite ammo, you must kill everyone you will encounter along the way.
The challenge here is the fact that you only have 5 lives to spare. You have no other way to regain lives so if you lose them all, the game will come to a quick end. The controls are very simple; you can use the virtual joystick to navigate around. The virtual control pad on the far right allows you to aim and shoot. It features a red trajectory that allows you to aim accurately. The character shoots automatically and continuously as long as you press and hold the shoot button.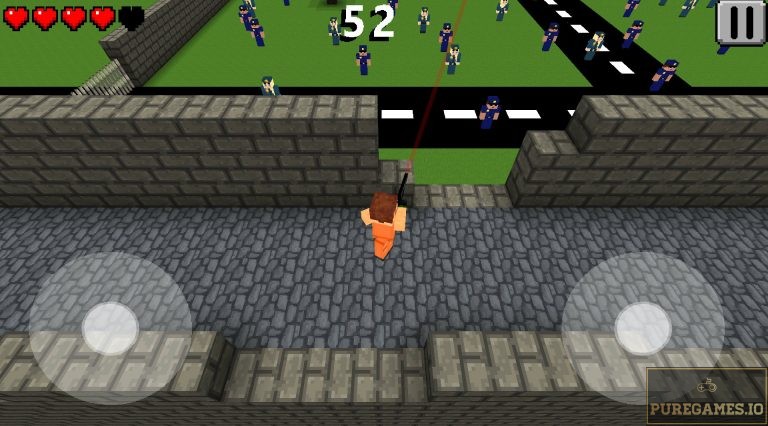 A Suicide Mission
It's a prison and we understand the eagerness of the character to escape. This however will be a risky mission to fulfill. First of all, the prisoners are not really in favor of your escape. Everyone in the game will stop you from escaping so you better be skillful enough to kill them before they approach you. The enemies will start to attack and chase you if you come close to their radius. You can take advantage of the trajectory to hit them from a far.
If you download Jailbreak Escape Craft, you should expect that you are entering a suicide mission. After successfully reaching the last part of the prison, an overwhelming amount of guards will greet you from the outside.  You will single-handedly fight them all and you must eliminate them in order to escape the jail. The downside of this campaign is the longevity. It is not long enough to enjoy. It's also frustrating that the game has no auto save features. If you hit the "BacK" button (intentional or by accident), the game resets back to the very beginning.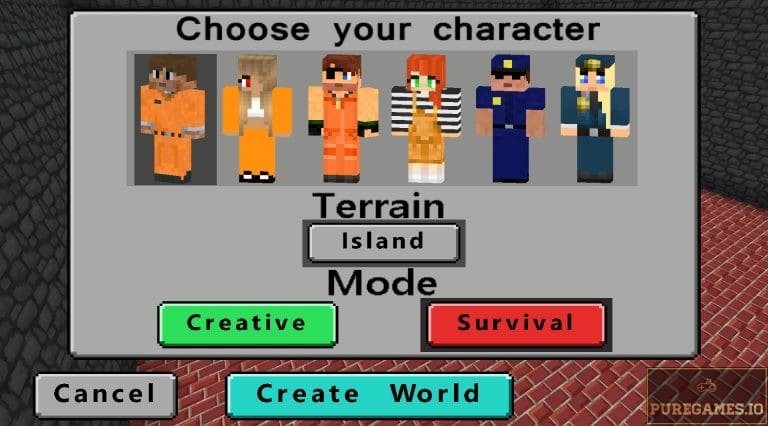 It's basically a Minecraft
Of course, this game will still embrace its Minecraft root. Aside from the Jailbreak Escape campaign, you can play the game in the classic Creative or Survival Minecraft mode. The graphics are not as smooth as the original game but still offers a decent atmosphere. You start the game by selecting your preferred character (there are 6 characters to choose from). There are two Terrains to choose from when playing Creative; Island and Flat. For Survival mode, you only have to deal with two hostile mobs; the zombies and the trolls. So do not expect any challenging and scary mobs like Creeper or even the Enderman. It also has a day and night cycle but the mobs are always present and constantly hostile no matter what time it is. The game comes with a compass too and the coordinates were displayed for easy navigation. You also don't need a craft box to build items. You can access the Craft tab from your Inventory and it lists down all the items you can build out of your resources. Mining is still an essential key to collect golds and diamonds. It is also worth-mentioning that your character will not drown when submerged in deep water.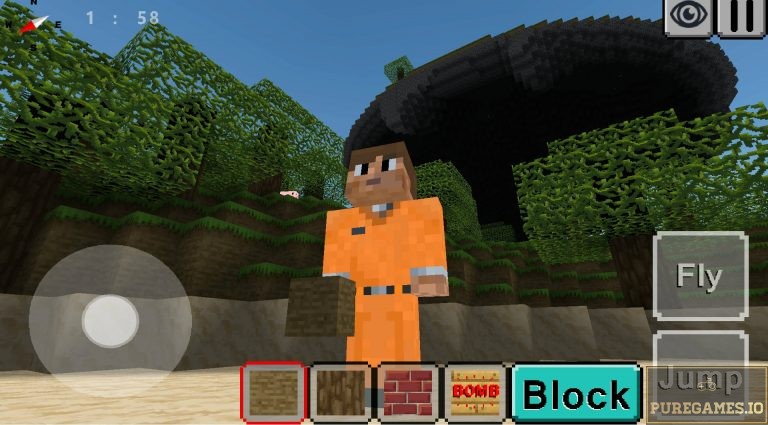 Verdict
The great thing about Jailbreak Escape Craft is the Jailbreak Escape mode itself. It's the only element that separates it from other Minecraft clone. They could have made it a bit longer or possibly create a level by level campaign to improve its replay value. They could also add Music and Sound to make the game more engaging. Generally, it is just one of those typical Minecraft clones you can have on your mobile for free.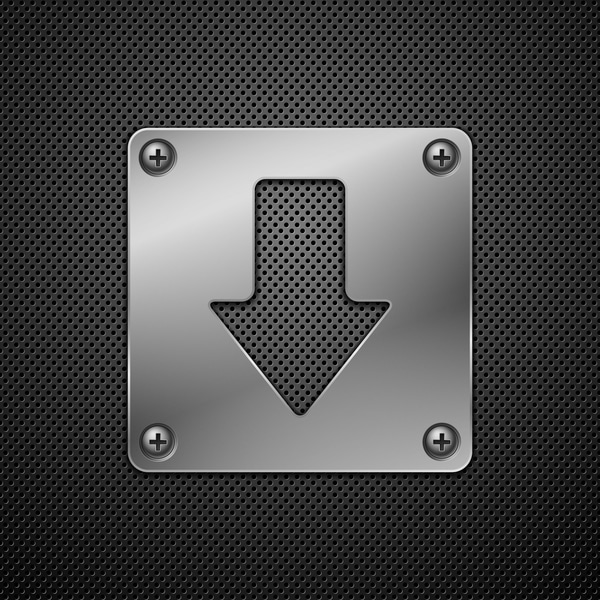 Download Jailbreak Escape Craft APK for Android/iOS
Select a file to download:
Download Jailbreak Escape Craft v5.0 APK