Have you ever thought about what it would be like to be an apex predator like a shark? With this game, you don't have to imagine. Hungry Shark Evolution is a casual game that lets you roam the open seas devouring everything you encounter as a shark. The goal of the game is to survive as long as possible as a shark by eating everything in your way while avoiding the many creatures and things that can kill you.
As a shark, you are not just limited to the open water, although that is where you are most effective as a hunter. You can explore underground water tunnels and caverns (but be careful not to go to deep or the pressure will kill you), and you can even breach the surface and gobble up some swimmers (and even some birds if you time it right). Each snack gives you coins, but you can hit the jackpot if you find underwater sunken treasures.
Gameplay
The controls are relatively easy. The lower left-hand corner of the screen lets you control the direction your shark swims, and tapping the screen gives you a boost in speed. Anything that appears in front of the shark gets immediately chomped on and eaten, unless it fights back. Almost anything underwater is on the menu for your shark. But there are things you should avoid. Navy Seals fight back, as do other sharks, and jellyfish, puffer fish, and spiny rockfish will sting you. Hitting a mine also immediately kills your shark, so make sure to avoid those.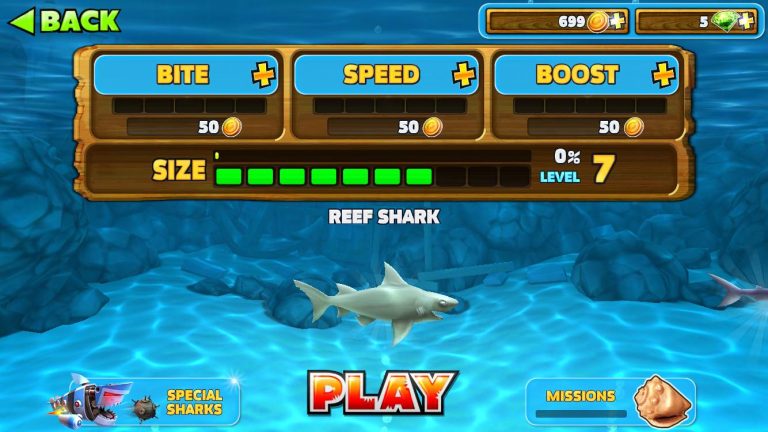 Graphics
For such a simple game, Hungry Shark Evolution carries with it some impressive graphics. Chewing your way through the ocean can be entertaining, and while seeing a trail of blood in the water can be gory, it can be silly and a little funny and definitely entertaining. There are some realistic and fun animations in controlling the shark swim through the water, such as breaching the water to catch a seagull, or thrashing around in the dock as you chase a sun-bather. Most of the shark's movement is realistic, with the exception of the backward move isn't since sharks can't really swim backwards.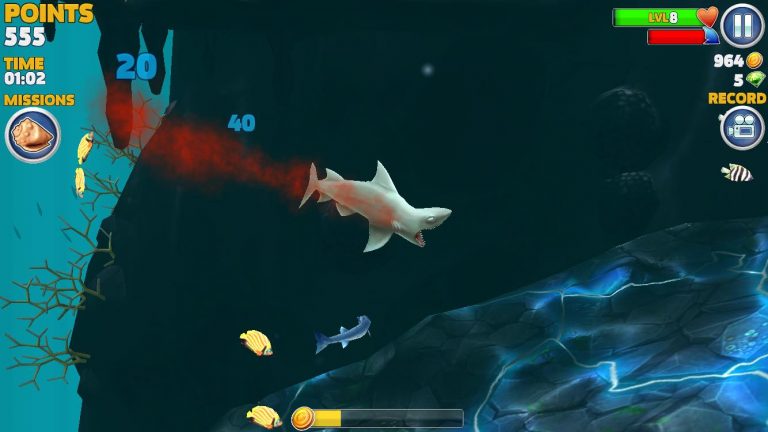 Missions
Aside from the main goal of survival, you can also unlock a few missions that will give you extra experience and coins. But be careful not to get lost looking for sunken treasure, your shark can get pretty hungry quickly, so make sure to eat whatever's swimming nearby while you explore. Also be in the lookout for shells to reveal your underwater missions.
Extras
You can unlock several different kinds of sharks and underwater predators. You start off as a Great White Shark, but you can upgrade or evolve your shark into a Hammerhead shark or even the huge Megalodon. There is also a Special Sharks menu where you can purchase special sharks such as a Robo Shark, a Pyro Shark and Ice Shark, even a transparent Ghost Shark. Other bonus accessories include equipping your shark with lasers and jetpacks or silly hats.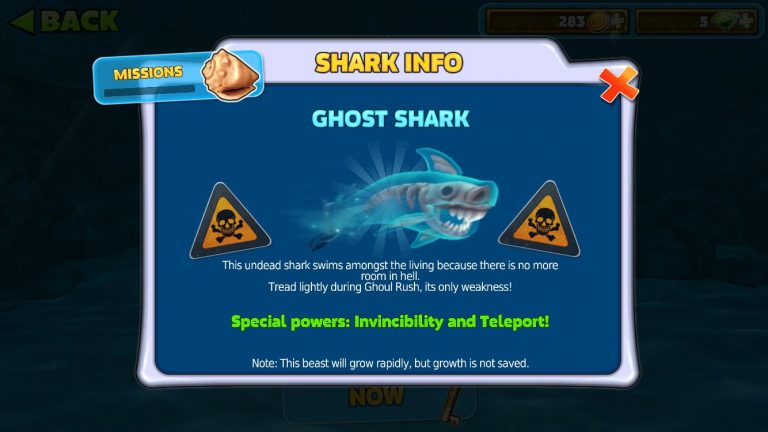 Conclusion
Hungry Shark Evolution is a fun game that lets you hunt down and eat fish and other prey as the top predator of the sea. Sharks have long been viewed as the villains and foils in most movies and games, but this time you get to play the bad guy and chomp, chew, and much your way across the open water.
The game is very entertaining, but after a while, when the novelty wears off, it can be a little repetitive, especially when the missions and goals of the game are not clearly stated for the player. But if your goal is to burn a few minutes (or hours) eating your way through the seas then this is the game for you.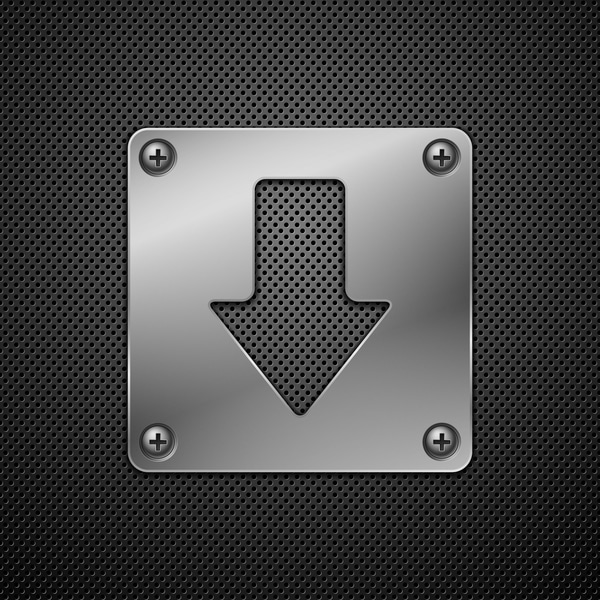 Download Hungry Shark Evolution APK for Android/iOS
Select a file to download: