Publisher

Epic Games

Platforms

Android 3.0+;

 iOS 6.0+

Price

Free

Size
138.5 MB
Latest Version
3.2
Aside from the fact that Android phone users have a great new reason to rejoice because Fortnite is finally and officially available on Google Play Store (it means that you no longer need to sideload an installer app via APK because you can now download it directly from the PlayStore), Fortnite fans also get a chance to embrace the new season of Fortnite Chapter 2. The highly anticipated Season 2 was released by Epic Games last February which offers an exciting agent-inspired theme along with a vast of wonderful new features that every Fortnite fan would enjoy.
Interestingly, Season 2 was supposed to end last month (April) but Epic recently announced that the current season will run until June 4. Although this is not the first time that Fortnite has pushed back the release of a season, it is possible and safe to assume that the delay was caused by the current coronavirus outbreak. Nevertheless, Epic announced that along with the extension, users can expect newly added features for the current season and that's definitely something to look forward to.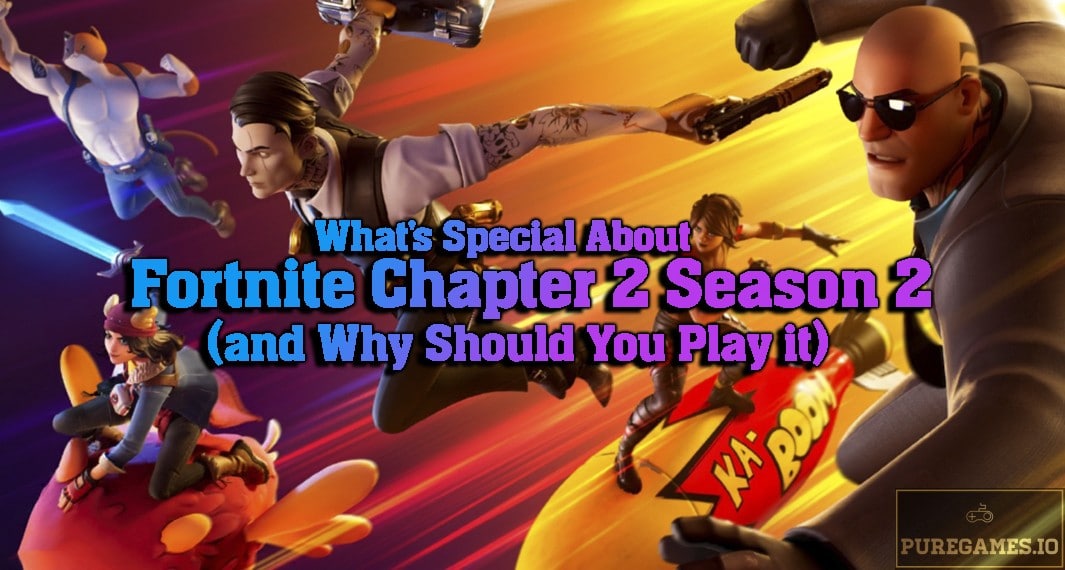 So what really makes this current season worth exploring? Today, we are listing down the exciting details that you should expect from Fortnite Chapter 2 Season 2 and why this season should not be missed.
What's New With Fortnite Chapter 2 Season 2
The new season which is entitled "Top Secret" will unleash the inner spy in you.  This agent-themed season follows the events that occurred from the previous seasons. Here, we will be introduced to an all-new map and will also give birth to the so-called "The Agency" lead by King Midas. It turns out that most of the characters from the past seasons were actually working under the Agency. The agency, however, is divided into two factions, the Shadow and the Ghost. It is up to you which side would you like to be part of. Like many other previous seasons of Fortnite, the current season will give us a bunch of mysteries to solve which will eventually become clear as we progress.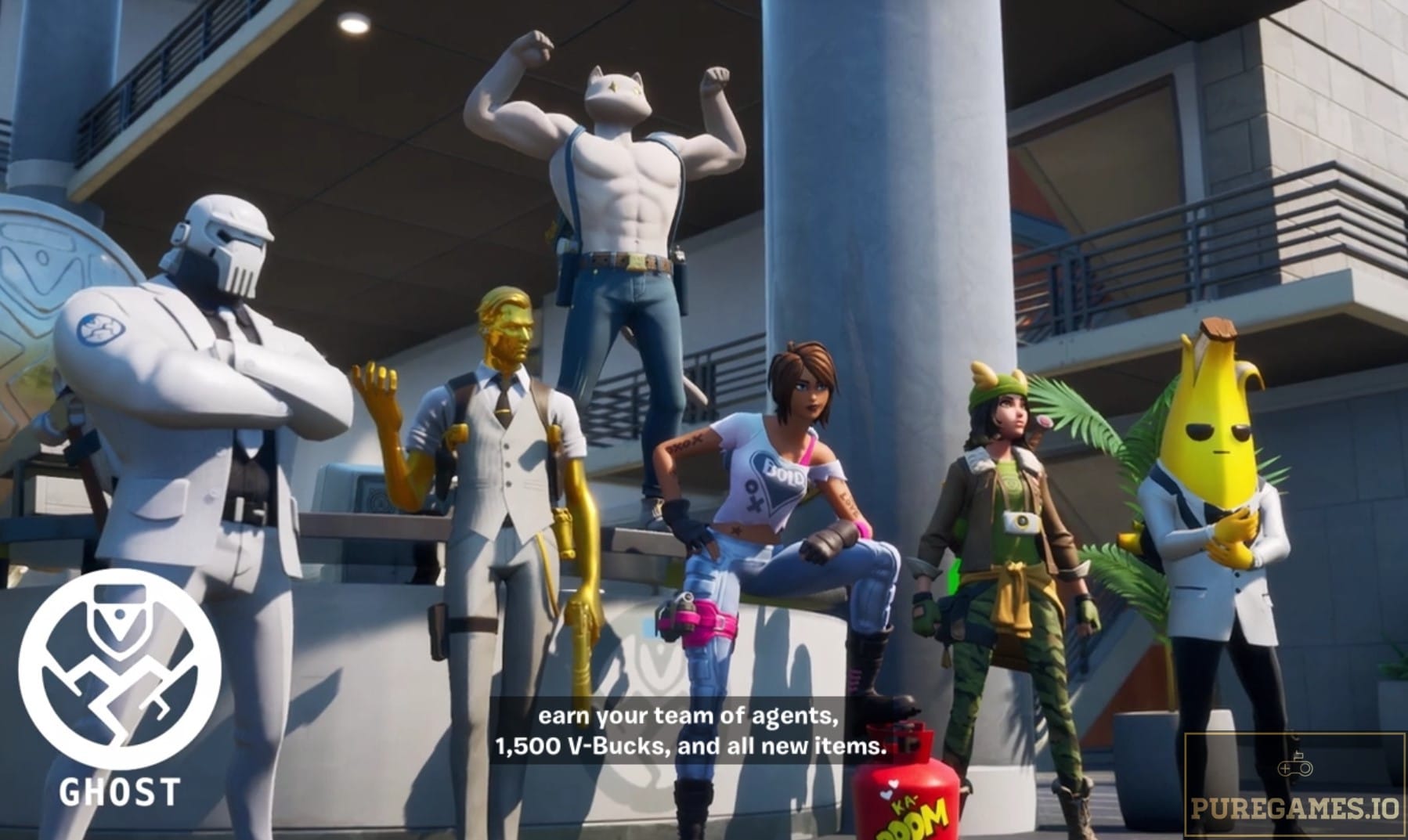 The last Chapter of Fortnite took ten seasons before it reaches its conclusion and we are not yet certain of how long this new chapter will last. Nevertheless, Fortnite Chapter 2 Season 2 is something we should not miss.
The New Battle Pass Hideout
One of the things that will greet you in this current season is the newly-designed lobby. The Battle Pass hideout will give you access to all the challenges. Located in the middle of the Lobby is the "Challenge Table" along with all new characters (skins) added in this season. As what the title suggests, the Challenge table will showcase a virtual map of the island (you can only reveal the area in this map if you managed to discover them during your mission). It also shows a panel containing the list of challenges you can take. Some of which will ask you to explore a specific area and complete specific missions while others including the Local challenges can be completed anywhere.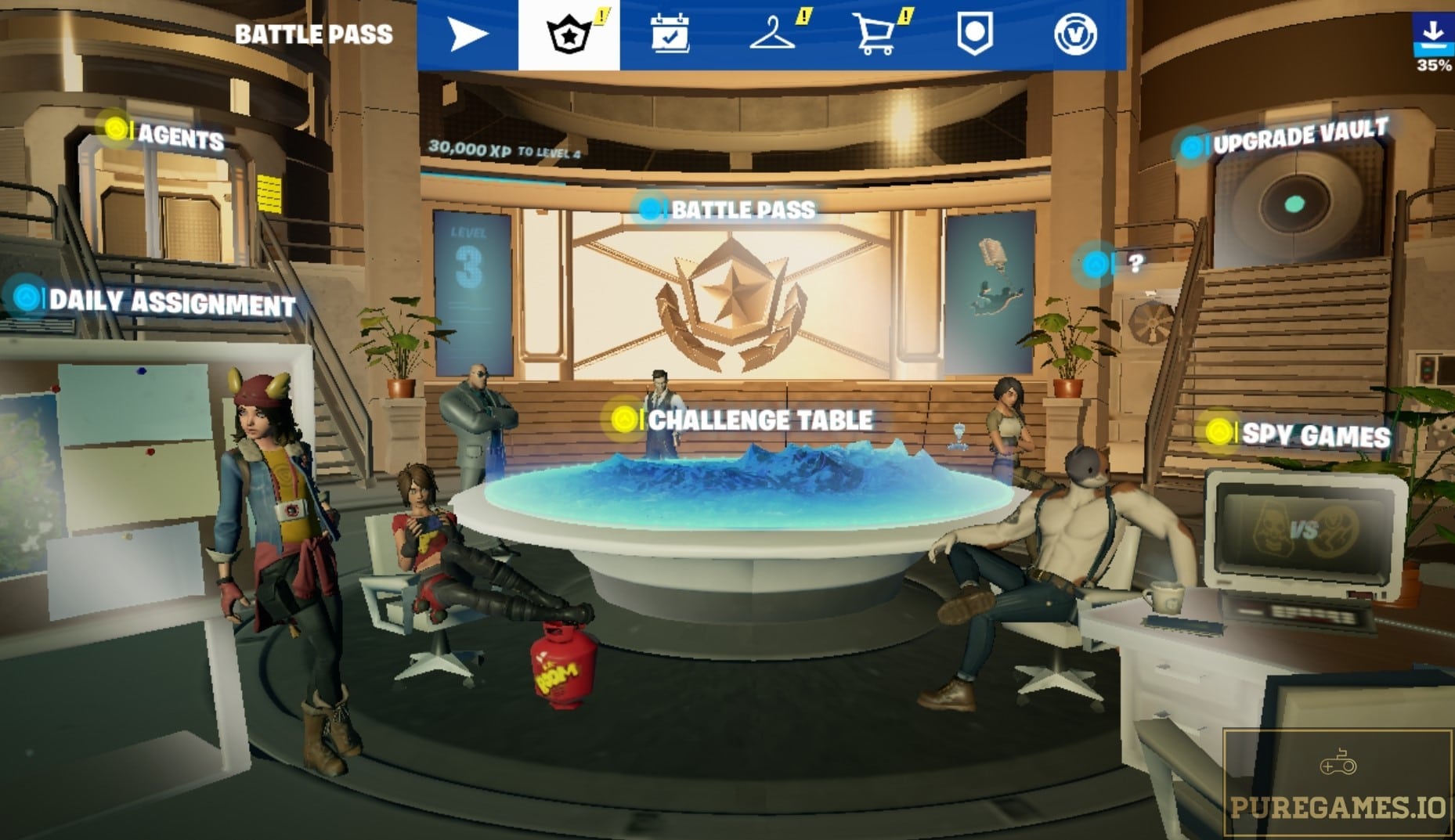 The Battle Pass Garage features a slight change from the previous season. It allows you to view the Premium and Free rewards available for your current Pass (Free or Premium). Agent Briefing Rooms, on the other hand, are rooms where you can access the faction you want and a quick glimpse of the Battle Pass Outfit you want to apply. The choices people make here will be recorded in a poll and those results impact the Storyline. The Maya's Upgrade Vault is one of the game's biggest upgrade. This is where you upgrade Maya according to your very own preferences. To obtain the ability to upgrade parts of her, you must complete her challenges or buy a Premium battle pass. Just below Maya's Vault is Deadpool's Vent, a small messy bathroom with a computer that allows you to access Deadpool's Weekly Challenges.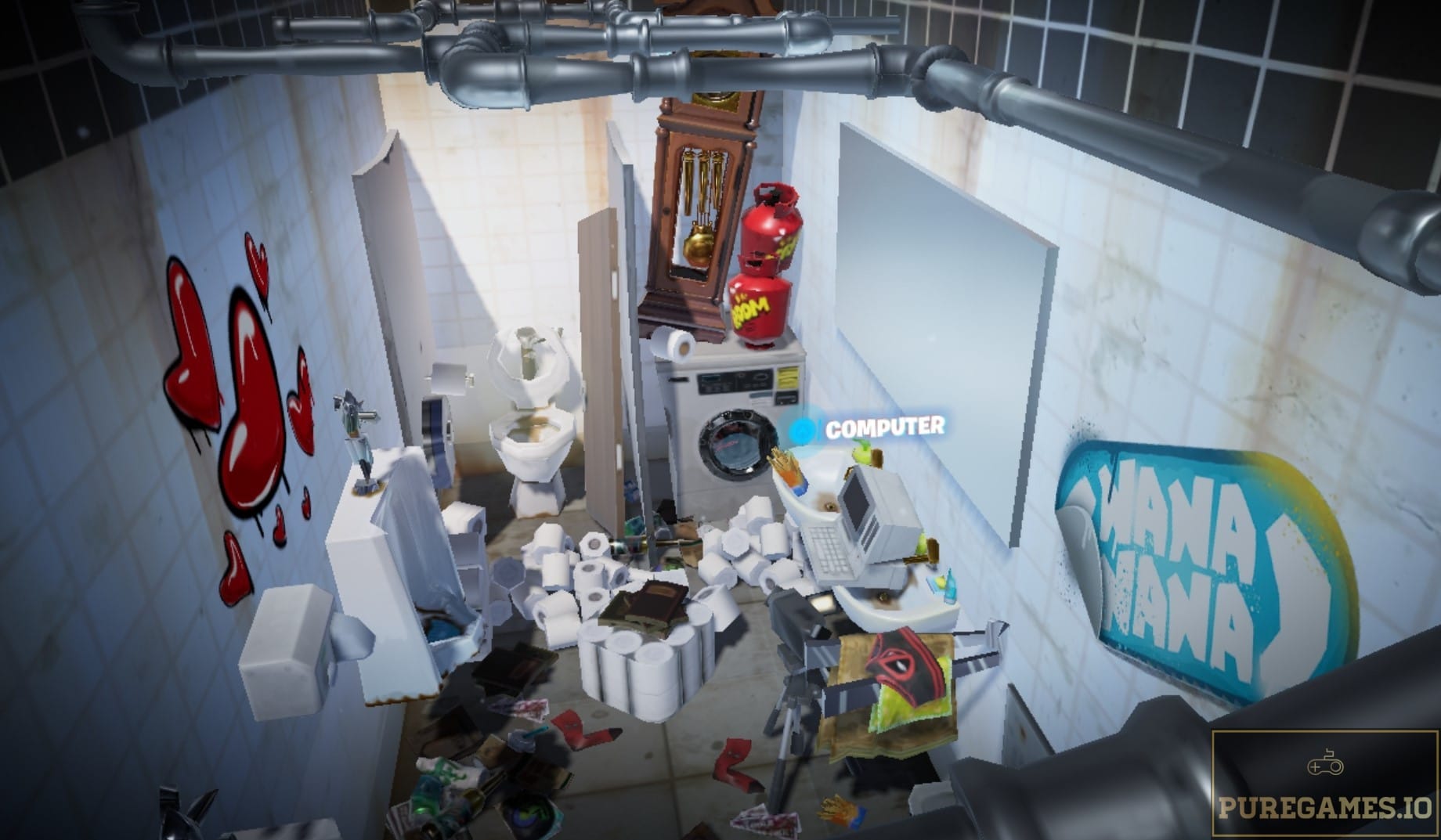 Daily Assignment Board will display your daily quests while Spy Games gives you access to your Tech depending on your chosen faction. Players can unlock new tech by playing Operation Matches.
New Areas to Explore
Of course, another great thing about the new season is the new map with new areas to explore. Compared to the previous chapter, the current one comes with a more exciting set of terrains. Of all the areas from the previous Chapter, Fortnite Chapter 2 managed to retain three iconic locations including the Salty Springs, Pleasant Park, and the Retail Row while the rest is entirely new. To top it all, the game also added special faction locations where you can meet all the featured Agents such as Midas, TNTina, Meowscles, Brutus, and Agent Skye.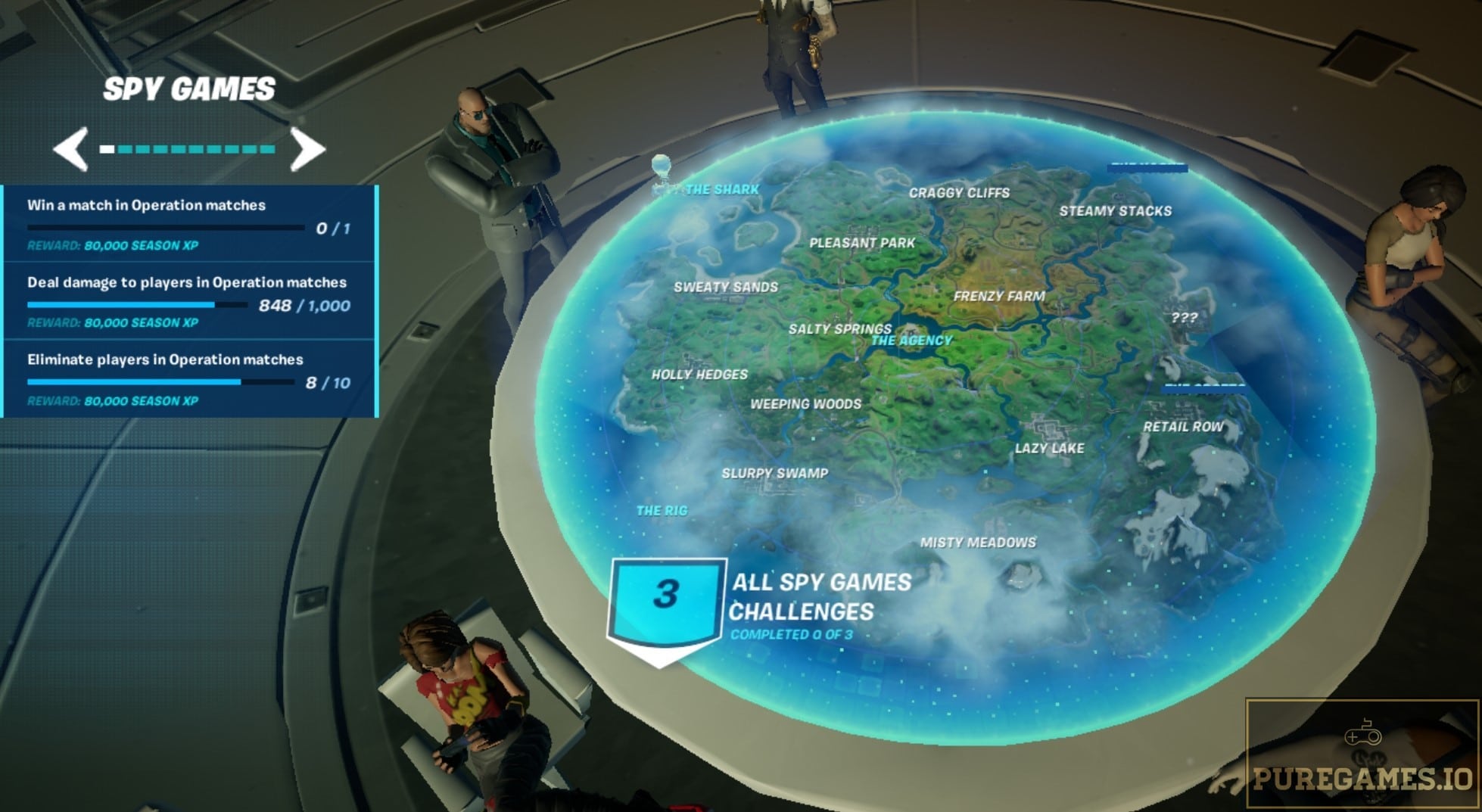 Some of the new areas include the Frenzy Farm, Steamy Stacks, Craggy Cliffs, Sweaty Sands, Misty Meadows, Slurpy Swamps, Lazy Lake, Weeping Woods, and Holly Hedges. There are five special faction locations in Fornite Chapter 2 Season 2. Each location comes with a boss heavily guarded by their henchmen. Therefore, entering these locations should be done with proper caution and make sure that you are heavily equipped, otherwise, you might find yourself in great danger. The Shark is located on a remote island near the Sweaty Sand Area. The place is lead by Agent Skye and is heavily surrounded by henchmen and security cameras.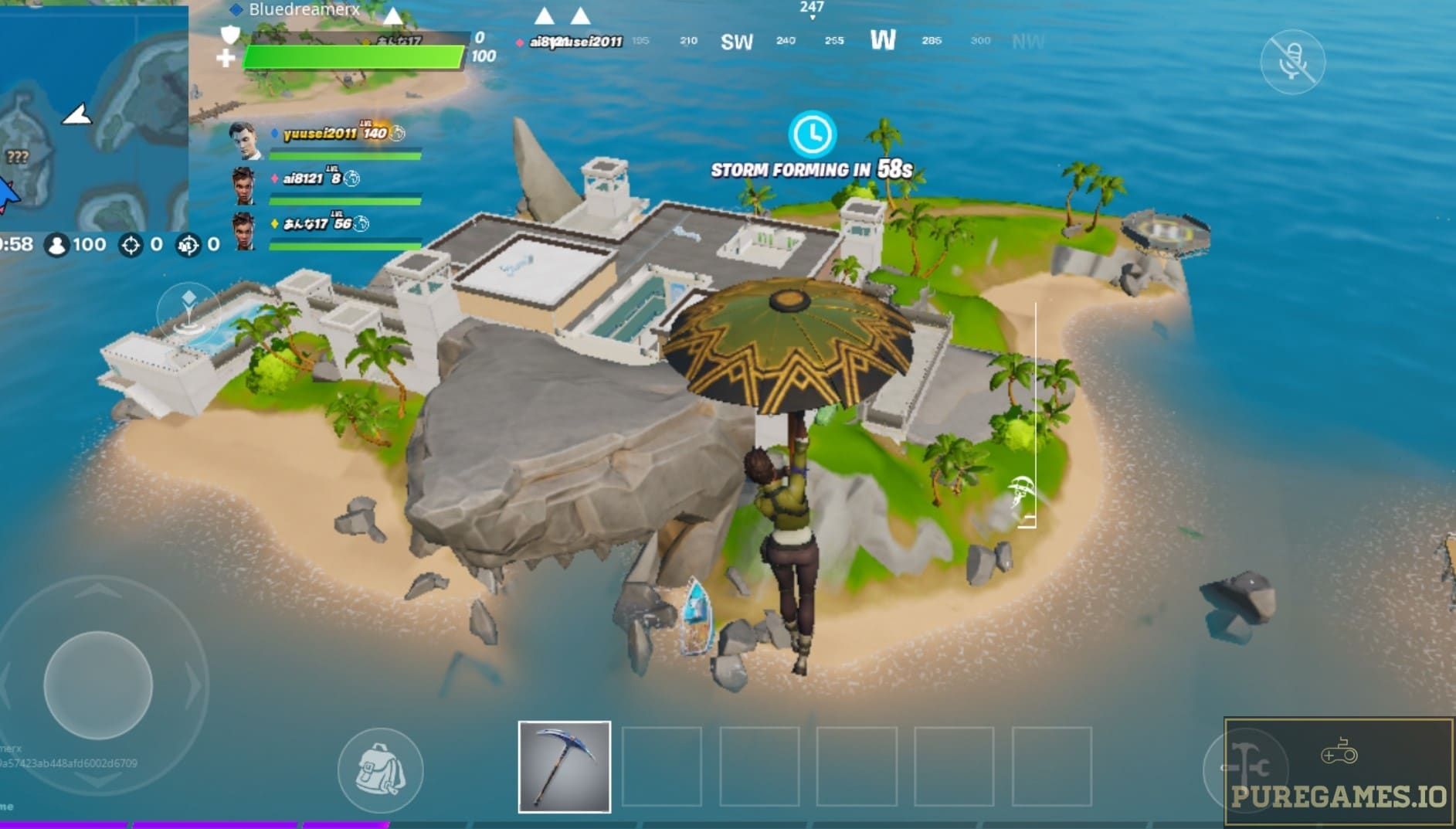 The Rig, on the other hand, can be found on the southern portion of the island. It is TNTina's base and it is also strategically located making it difficult to enter and to escape. The Yacht, just like the Rig, is located off the coast. It is a large ship surrounded by security cameras and also the place where you can find Agent Meowscles. Grotto, on the other hand, is an underground base lead by Agent Brutus. Last but absolutely not least is the Agency itself. Located at the heart of the island lies a heavily secured facility. It is also the home of Agent Midas.
New Skins and New Weapons
Of course, let us not forget the fact that this new season comes with a new set of outfits to explore. Fortnite Chapter 2 Season 2 comes with nine unique outfits for those who can make it all the way to Tier 100. Maya is the first skin you can unlock (you need to buy a battle pass to obtain her and the rest). What makes Maya incredibly unique is the fact that you can customize here based on your own preferences. There are millions of possibilities for her character. Aside from Maya, players can also unlock Agent Peely on their very first tier.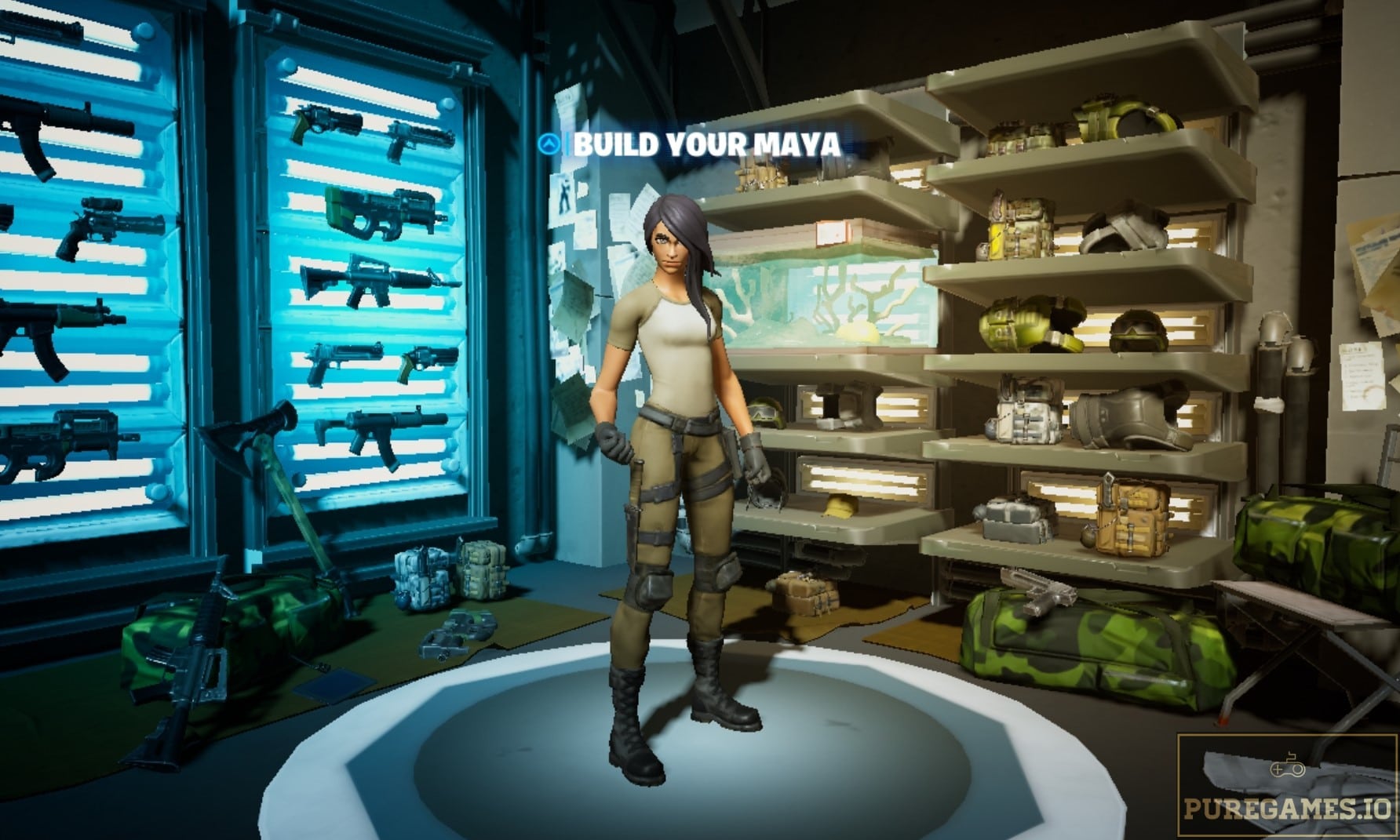 Upon reaching Tier 20, you may now unlock Agent Brutus followed by TNTina on Tier 40. Meowscles can be obtained upon reaching Tier 60 while Skye can be unlocked after reaching Tier 80. Lastly, you can have Agent Midas when you reached Tier 100. You can also unlock The Ghost and Shadow outfits too. Deadpool outfit is also obtainable in this season.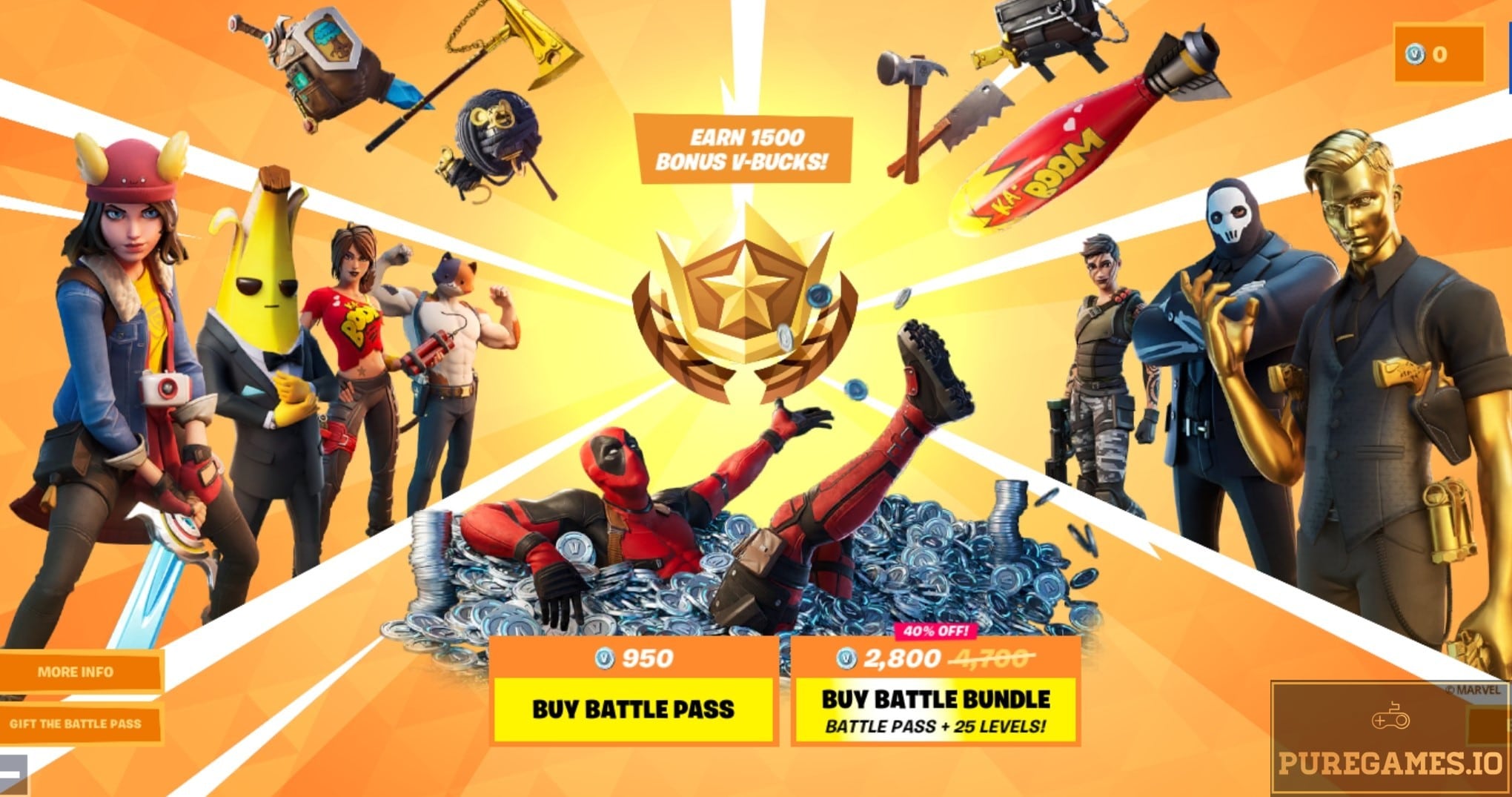 The game will also introduce us to new weapons which can be obtained in various ways. Fortnite Chapter 2 Season 2 will introduce us to mythical weapons which you can obtain by killing the bosses (POIs). Killing Agent Midas, for instance, allows you to obtain his infamous Drum Gun. You can obtain the mythical minigun from Brutus, mythical Boom Bow from TNTina, the Peow Peow Rifle from Meowscles, and mythical Grapple gun and Scar from Skye. In addition to that, you can also obtain special weapons from the henchmen you killed. Some of these include Suppressed Assault Rifle, Suppressed Submachine gun, and more. You can also obtain new weapons like Boxes (stealth), invisibility power up and even Decoys to distract enemies.
Game Modes
Fortnite Chapter 2 Season 2 might take us to an all-new map and will introduce us to an all-new storyline but the game will remain faithful to its classic gameplay, the iconic battle royale. This current season comes with 12 modes to explore (excluding the Tutorial campaign). It includes the classic Solo where you explore the island alone and try your best to be the last player standing and the Duo Campaign where you will be paired to another player. The Squad Campaign allows you to play along with a group of players. You will be deployed on the island and you must try to help your team and be the last squad remaining.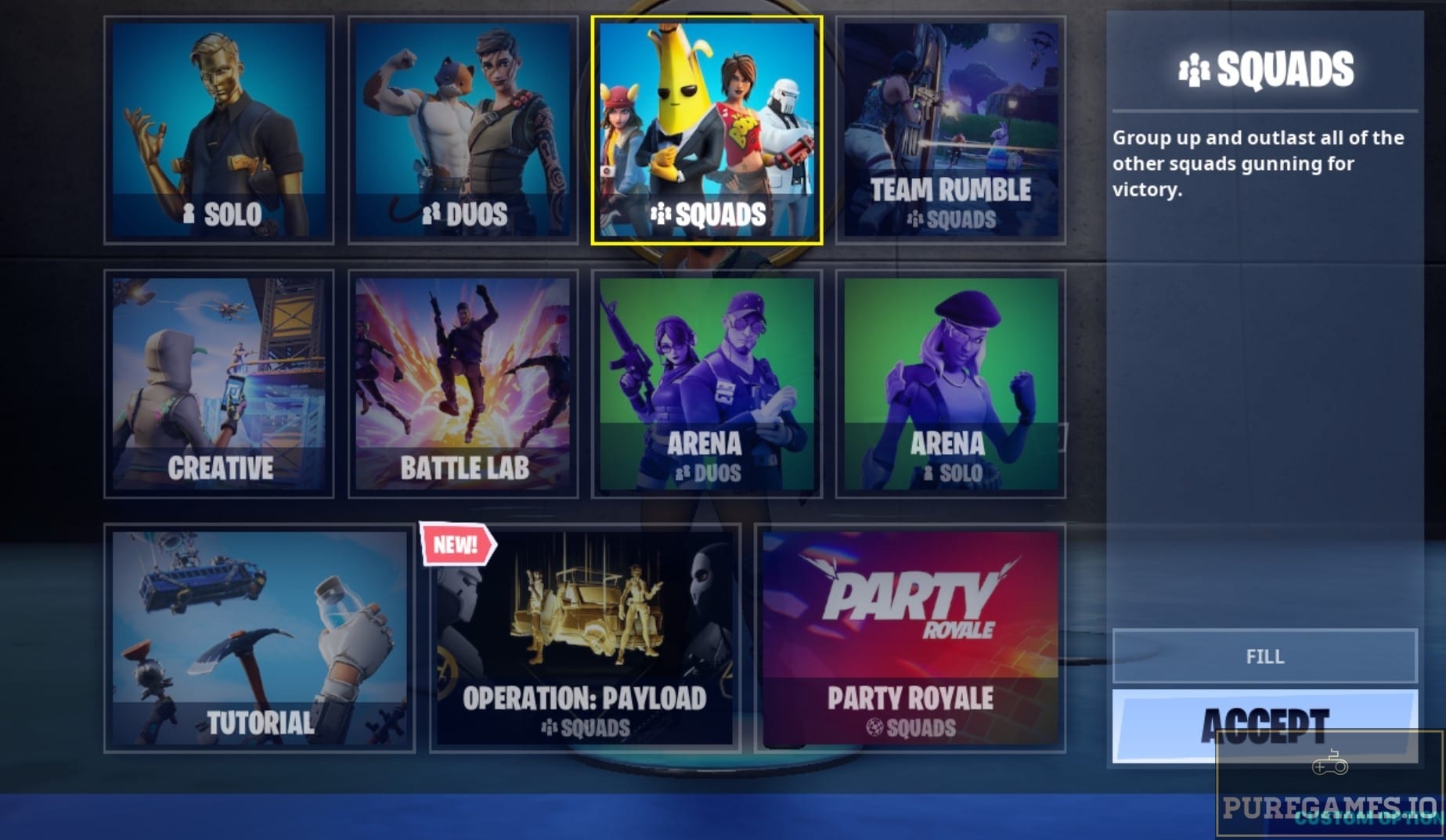 Team Rumble works like Squad mode but with massive team members and players can respawn indefinitely until the target goal is met. Creative, on the other hand, allows you to explore games made by the community while Battle Lab allows you to create your own battle royale island with your own rules applied. Arena Duos and Arena Solo are both competitive modes. Some of the new events include Party Royale which doesn't involve any battle but allows you to socialize with other players online. Operation: Payload is one of the new operation matches in the current season. Here, you will either help your team to stop or escort the payload. It is very important to explore operation matches to earn intel and unlock new tech for your faction.
There are many other things that are worth exploring and there are still many mysteries to solve and while we are all waiting for the new season to arrive, feel free to explore Fortnite Chapter 2 Season 2 and wait for other new upgrades to come.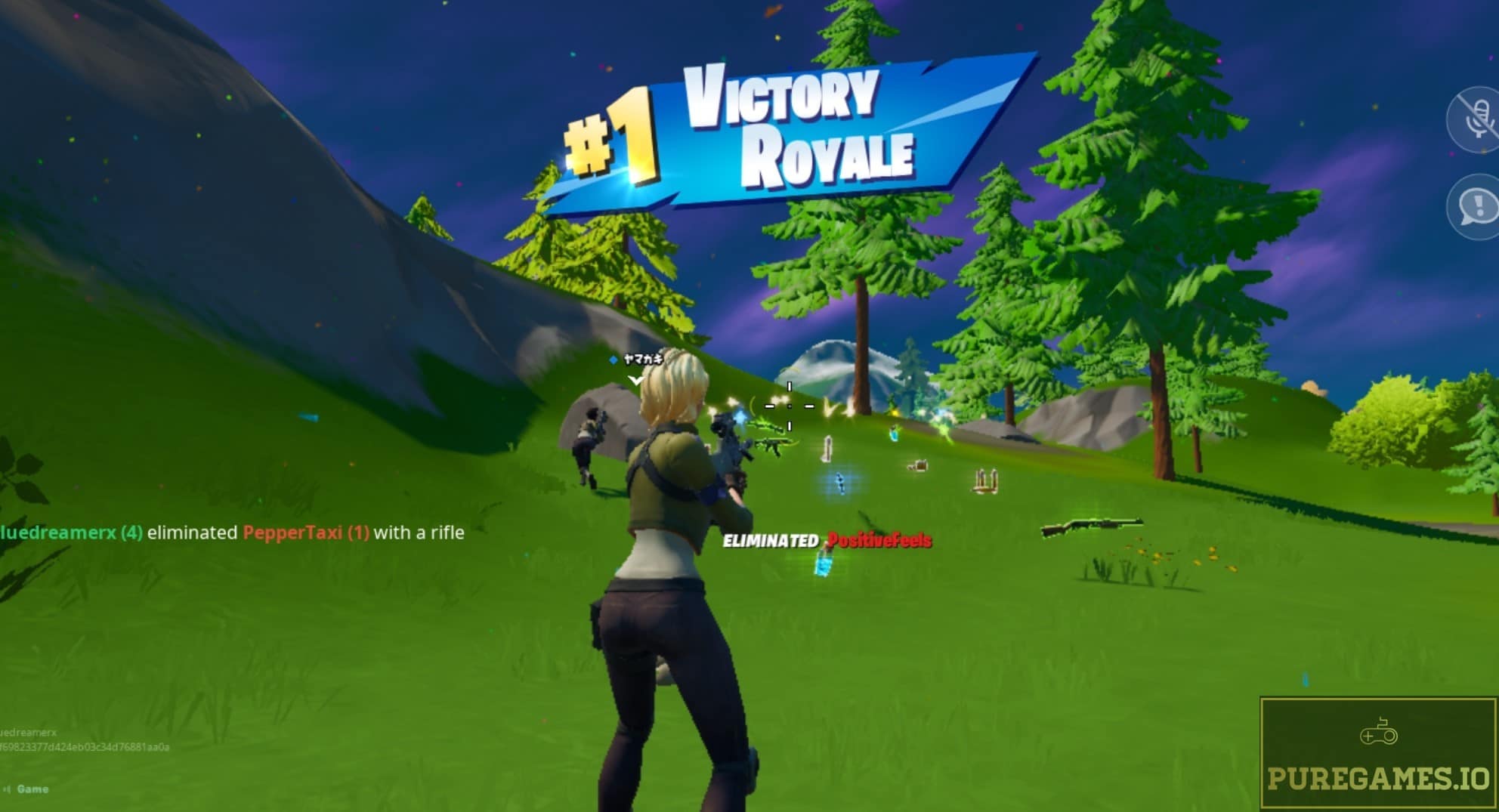 Wonderfully, Fortnite is now available for both Android and iOS devices. You can download this amazing game absolutely for free. Just make sure you have enough space on your phone as the game requires more than 7GB to enjoy it to a full extent. Good luck and have fun!