Now that you know the basic guidelines on how to maximize your chances of surviving the Fortnite Battle Royale, let us now take a deeper look at one of the game's most essential elements, the Weaponry. Like most battle royale games, Fortnite comes with one rule, all players will be deployed on the battlefield weaponless. The only way to obtain them is through scouting or scavenging. All weapons are randomly scattered on the map. Some of which can be found through loot boxes or supply drops while most are just lying outside waiting to be picked up. Since these are the only way to protect yourself in this game, it is very important to pick nothing but the best and most effective Fortnite weapons to maximize your chances of surviving.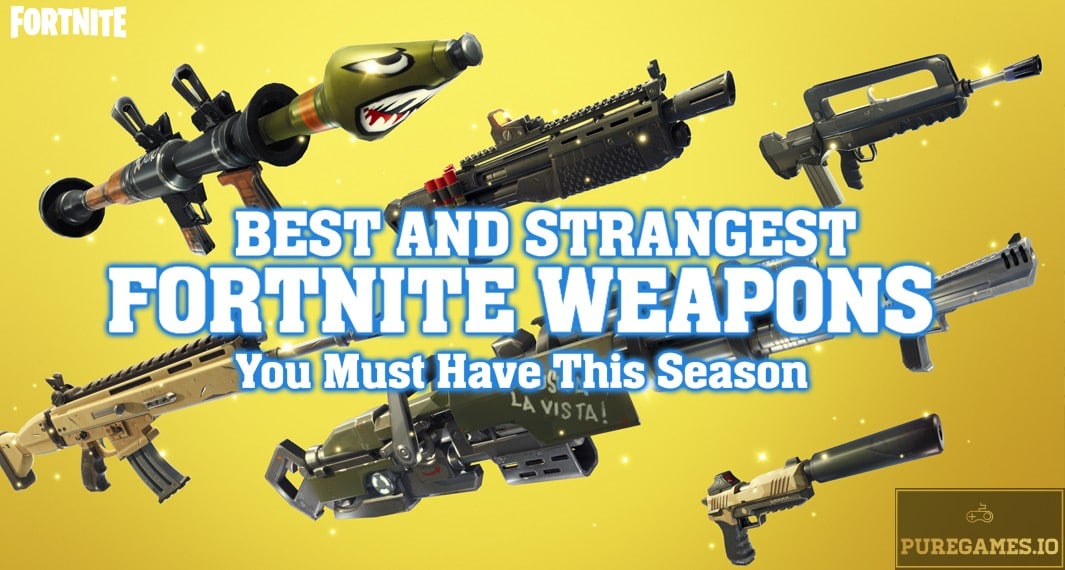 Fortnite Chapter 2 Season 2 introduced us to an overwhelming number of weapons. Most of which are already present ever since the franchise started while some are exclusively added for this new chapter and season. Keep in mind that weapons come in different rarities. Common weapons (gray) are the ones with the lowest damage rates followed by Uncommon weapons (green). You can also encounter Rare Weapons (blue) and Epic (purple) which are relatively more powerful than the others. Of course, Legendary weapons (gold) are the trustiest of them all yet quite hard to find. All weapons come with different attributes and will vary in terms of their damage rate, fire rate, range, magazine size, and more.
Today, we are listing down some of the most powerful and some of the strangest Fortnite weapons you can find within the game. We are also including the Mythical weapons that are newly introduced in Fortnite Chapter 2 Season 2 and a quick guide on how to obtain them. Also just because we tagged a weapon as "strange" doesn't mean it's useless. Their functions are just unusual yet surprisingly effective on many occasions.
BEST: MIDAS DRUM GUN
This new agent-inspired season will introduce us to various agents (also available as skins). Each agent can be found in a special location on the map. Agent Midas, for example, is located within the so-called Agency which can be found on the center-most part of the island. The character is armed with the infamous Drum gun which is now classified as one of the mythic weapons that a player can acquire during a match. To obtain this item, you must be able to defeat Midas himself. Like all Mythic weapons, each match only offers one Midas Drum Gun. As far as the attributes are concerned, Midas Drum Gun's fire rate (10) is slightly lower than Brutus' Minigun but comes with greater damage rate (25/buildings – 250 DPS). The weapon's large magazine size is surely a great advantage in the battle.
STRANGE:  BANDAGE BAZOOKA
The Bandage Bazooka was introduced in the game in the first season of Chapter 2 and remains to be one of the strangest yet surprisingly useful launchers in the game. As what the title suggests, Bandage Bazooka allows you to shoot bandages directly to your teammates. It gives 20 Health to your allies which makes it an excellent weapon for the Squad campaign. It also automatically recovers ammo every 20 seconds which gives you another great advantage. The tricky part, however, is that you cannot use the weapon for your own recovery and it also consumes 2 slots on your inventory.
BEST: SKYE'S ASSAULT RIFLE
Assault rifles are absolutely one of the Fortnite weapons you should always include on your arsenal as they are truly effective in every battle whether it is a close-range or a long-range firefight. Skye's Assault Rifle (Graffle and Scar gun), on the other hand, is currently one of the best assault rifles a player can obtain in this current system. Just like Midas's Drum Gun, Skye's Grapple gun is classified as a mythic weapon and can only be obtained once per match. To obtain this weapon, you need to visit the so-called Shark and defeat Skye. Just be mindful that the place is heavily surrounded by henchmen and other security mechanisms so make sure to equip yourself with a strong weapon and healing items before you sneak in. Skye's Grapple gun comes with a very high damage and low recoil which allows you to hit targets more accurately.
STRANGE: DECOY GRENADE
Decoy Grenades is among one of the Fortnite weapons that are introduced in this new season. It is indeed a strange variant yet surprisingly useful on special occasions. As what the title suggests, this unique rare item allows you to throw a grenade and launch a clone of your avatar. It is mainly used to distract your opponent. Upon activation, the grenade will generate a cloud of smoke and a moving clone of your avatar. The execution should be done smoothly to make this weapon efficient in your battle.
BEST: TNTina's BOOM BOW
Another powerful and destructive Fortnite weapon of this new season is the special TNTina's Boom Bow. It is another mythical weapon that you can only obtain once per match. Just like the other mythical weapons in this list, the only way to obtain the infamous Boom Bow is to defeat TNTina which is located in the so-called Rig (a faction location that you can find off the coast). The weapon comes with an incredibly high damage rate with 100 Damage per shot that can easily take down enemies even they are in full health. TNTina's Boom Bow is notable for its splash damage and excellent sniping capabilities. Although you can only have five ammo at a time, this weapon refills overtime automatically.
STRANGE: KINGSMAN'S UMBRELLA
Kingman's Umbrella is one of the newly added Fortnite weapons in this current season. This weapon is entirely based on the same Kingsman's Umbrella in the Kingsman movies. Knowing that this season comes with an agent-inspired theme, it is just appropriate to embrace items from another agent-inspired film. The Kingsman's Umbrella can be used both as protective gear and a weapon similar to how the Lightsaber works (but relatively more powerful). The umbrella comes with multiple benefits. For instance, you can use it as a glider to avoid fall damage. As a weapon, it is an excellent item for melee combat and it can also be used to deflect bullets (no extra fortification needed).
BEST: BRUTUS' MINIGUN
Brutus'Minigun is one of the five mythical weapons in Fortnite Chapter 2 Season 2. Compared to regular miniguns, this weapon is way more powerful and way more effective. It comes with a tremendous 252 damage per second and has a limitless ammo capacity. Yes, you read that right! It has an infinite magazine size that allows you to shoot without stopping until the last bullet drops. This weapon can topple down buildings and structures in no time which makes it an excellent choice during a firefight. Like any other mythical weapons, however, obtaining this item could be a challenge. There is only one of its kind per match and you can only obtain it by defeating Brutus himself on the Grotto. It is a heavily-secured underground facility so make sure you are armed with the strongest weapon before you sneak in. Nevertheless, this weapon is absolutely worth-claiming.
STRANGE: CREEPIN' CARDBOARD
Remember the good ol' Metal Gear Solid days? One of the strangest items in this action-packed video game is the cardboard box that allows you to sneak and infiltrate enemies' bases. Interestingly, Fortnite Chapter 2 Season 2 will introduce us to Creepin' Cardboard which works that same way with the ones in the Metal Gear Solid franchise. The Creepin' Cardboard is an Uncommon Item that can be found as floor loot or you can simply find them laid out on the island. Although it is mainly used for stealth, you can also use sniper weapons while wearing it.
BEST: PEOW PEOW RIFLE
Don't be deceived by Meowscles overwhelming cuteness because he is actually armed with a powerful weapon that is known as the Peow Peow Rifle. Peow Peow is a rare variant of the Heavy Assault rifle and is considered as one of the five mythical Fortnite weapons of the current season. It generally works the same way with the standard heavy assault rifle but comes with greater attributes. Peow Peow Rifle is an extremely versatile weapon that you can use efficiently whether on a close or long-range battle. Just like all the other mythical weapons in this game, there is only one Peow Peow Rifle per match and you can only obtain it by killing Meowscles. The agent can be found in the Yacht that is located off the coast.
STRANGE: MYTHIC GOLDFISH
One of the rarest items in this game is the Mythic Goldfish and finding it in every match has a very minimal chance. Some players who already found it described the Mythic Goldfish as one of the most powerful weapons in the game. This Mythic gold fish is a throwable fish-like trophy that deals massive damage when executed. It is not sure though how exactly to obtain this rare item but some players claimed that they accidentally found it near the Misty Meadows. If you are lucky enough you might be one of the few players to use this item.
Other noteworthy Fortnite weapons include the recently unvaulted items like Suppressed Assault Rifle, Suppressed Pistol, Suppressed Sniper Rifle (All of which can be obtained by killing henchmen from various faction locations), Crashpads, and more.
Now that you have the idea of the sought-after weapons that you should include in your arsenal and the idea where to find them, it is time to enter the battlefield and see if you have the skills to obtain them all. Great thing, Fortnite is already officially available on Android and you can download it for free. Good luck and have fun!