| | |
| --- | --- |
| Publisher | Top Games Inc |
| Platforms | Android 4.1 and up |
| Price | Free |
| Size | 68 MB |
| Latest Version | 3.82.13 |
Mobile games with misleading ads are very common nowadays. There is an overwhelming number of advertisements showcasing some fun-looking pin pulling puzzles and yet the game itself will treat us with entirely different gameplay. Well it seems like some game developers understand our frustration over these misleading campaigns and they decided to create a game that will actually feature the same gameplay. Evony: The King's Return by Top Games Inc is one of the newest mobile games that will give you exactly what you see from their ads. In fact, the gameplay is even more fascinating. Evony: The King's Return is a wonderful merge between a real-time strategy city building game and pin-pulling puzzles. Embark yourself in an epic journey as you transform your city into a powerful empire.
The Gameplay
If you have experienced playing an empire-building RTS, then you should know how exactly Evony works. The game follows the same classic city or empire-building format while incorporating it with some mind-twisting pin pulling puzzles. Take note that the puzzles here are not just inputted as minigames (just for the sake of putting them so they can't be tagged as fake ads). The pin pulling puzzle is part of your major quest and will play an integral part in your overall progress. Much like most city-building games, Evony will mainly focus on improving your kingdom to build a sustainable community and eventually transform it into a powerful empire.
In the entire course of the game, the player will be asked to perform numerous tasks including building constructions, upgrading structures, scouting for resources, hunting, and of course, solving pin puzzles. Before you start the game, you will be asked to select your preferred civilization. Interestingly, the game comes with 7 wonderful options that will surely take you back in ancient times. These civilizations include American, European, Russian, Korean, Arabia, and Japanese. Each comes with their own distinct atmosphere which also provides Evony a remarkable replay value if in case you want to explore all the civilizations.
Rebuild The Kingdom and Travel Back in Time
As soon as the game starts, you will be prompted immediately to your chosen kingdom. You play the role of the emperor who is responsible for almost everything. You start the game with basic structures including your Keep (castle) and other basic production buildings. Although you can do anything you want in the game, you still need to follow whatever your major quest dictates. It is the only way to progress in this game and also the best way to reap generous rewards. To start, simply tap the Quest icon on the far left side of the game screen. This will show a new panel showcasing the entire quest log. The Quest log will showcase both Main Quests and Side Quests.
Like most city-building games, the early stages of Evony are extremely manageable. You can construct and upgrade buildings with minimal waiting time. However, the challenge comes in when you reach higher levels. Upgrades will often last for hours and you either have to wait until it is over or take advantage of the Speed Boosters, Alliance Help, or through a premium currency that can be obtained in huge bundles via the in-game shop. One thing that you will surely appreciate in Evony is the visually stunning design. The details are seemingly well-researched as they all perfectly match with your chosen civilization. The atmosphere of the game will surely take you back in time.
World Map, Alliances, and Mysterious Puzzles
Part of your main quest is to explore the world map and interact with nearby surroundings. You will be asked to hunt or scout for nearby resources. Some expedition involves fighting against other barbarians. This is also the reason why you need to recruit the best generals before sending your troops into the battle. Each general comes with their own attributes and special skills that you can upgrade to make them more efficient in the battle. Troops can also be trained in their respective training facilities to enhance their skills and to boost their strength. If your army is strong enough, you can attack nearby kingdoms too.
The multiplayer element of the game can also be found through its Alliance system. Here, you will be asked to join an alliance and embrace all the benefits you can earn from it as a member. You can request for Alliance Help to expedite your construction time. Alliance members can also enjoy other perks like Alliance gift, treasure, and exclusive Alliance Shop. You can also organize an Alliance War and engage in a massive PvP battle.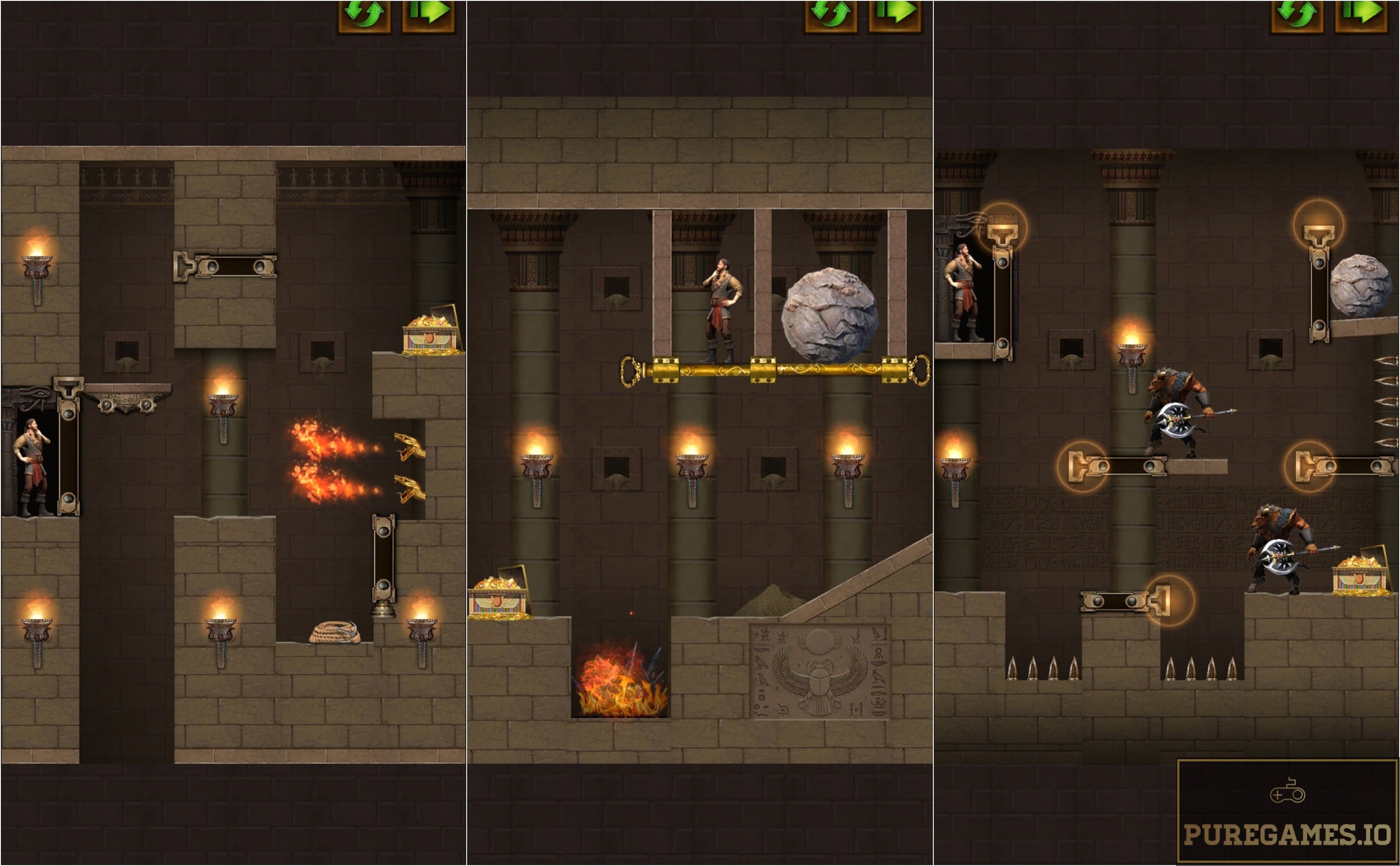 As for the Puzzle, you can access these pin pulling games by tapping the Mysterious Puzzle icon on the lower-left corner of the game screen. This will prompt you to another map and each area is composed of multiple levels which you must clear sequentially. The rate of difficulty for each puzzle will drastically increase as you progress. Like a standard pin-pulling game, your goal is to guide your character through the map to reach the treasure by strategically pulling the pins. Take note that these are not just simple puzzles because most of them are extremely challenging. You must visualize the puzzle carefully before taking any action, otherwise, you might find yourself exploring the same level. Solving these pin puzzles also grants you with various rewards.
The Verdict
Evony: The King's Return is generally your typical city-building game. However, the way it cleverly inputted the controversial pin-pulling puzzle makes this game a standout. Also, the fact that they provided different atmospheres for each civilization provides Evony a commendable replay value. Appearance-wise, Evony: The King's Return is an absolute visual delight. The game will treat you with remarkable graphics and visually stunning designs. It is also accompanied with well-fitting music to complete the periodical theme of the game. Overall, it is a decent empire building game that you can confidently include on your mobile. Currently, Evony: The King's Return is available for both Android and iOS devices and you can download this epic RTS for free. Good luck and have fun!