| | |
| --- | --- |
| Publisher | Merger Games |
| Platforms | Android 4.1+ |
| Price | Free |
| Size | 41 MB |
| Latest Version | 1.4.5 |
Look up in the sky, it's a bird, it's a plane, nah, it's just Merge Plane, Car Merger with planes. Download for more endless and high class grinding.
Overview
I've discovered recently that this type of games has an actual name: click & idle tycoon. Now, those who read me on a regular basis know how allergic I am to games that have the auto-complete option. I'm revolutionary about it. To the point that I believe they shouldn't be called games. Merge Plane is only half way there. The core mechanic is designed in such a way that you don't have to do anything to progress, but in order to progress faster and more efficiently, you will have all hands' job. Similary to Car Merger, a title I've written about, the objective is to build an airplane empire. You do so by buying or getting new planes, merging the same levels together in order to unlock higher level aircrafts. Those are faster and provide more earnings. One thing that separates it from the lookalike clones is the ranking feature.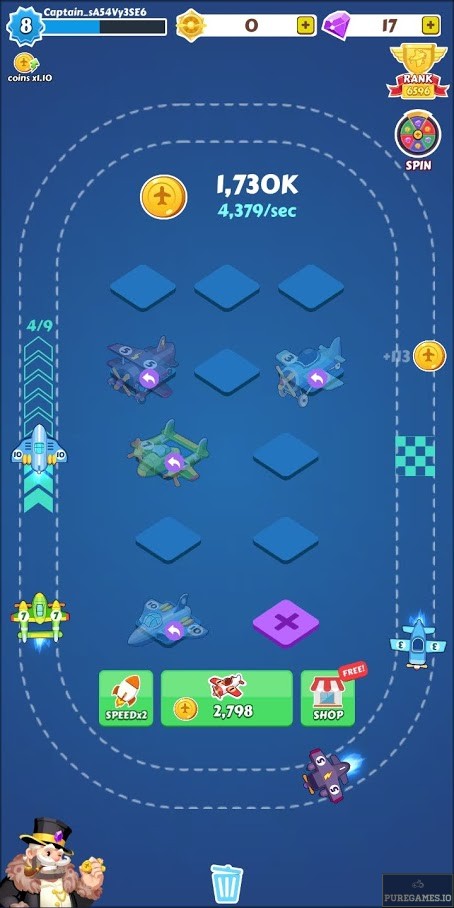 Gameplay
You start with only a few parking and runway slots. New planes you buy or get arrive at the parking slot. From there, you can either drag them on the runway to employ them in order to make money for you, or you can drag them on another plane of the same level, for them to merge and give you a one level higher vehicle. As you progress, you'll unlock new runway and parking slots. You can also buy those for rubies, a premium value which you can either purchase, for real money, or earn by completing quests and achievements. Those usually demand for you to have a certain number of planes of a certain level, or to earn a specific number of coins, etc. Completing quests can also reward you with various types of boosts, which either give you more speed or more earnings.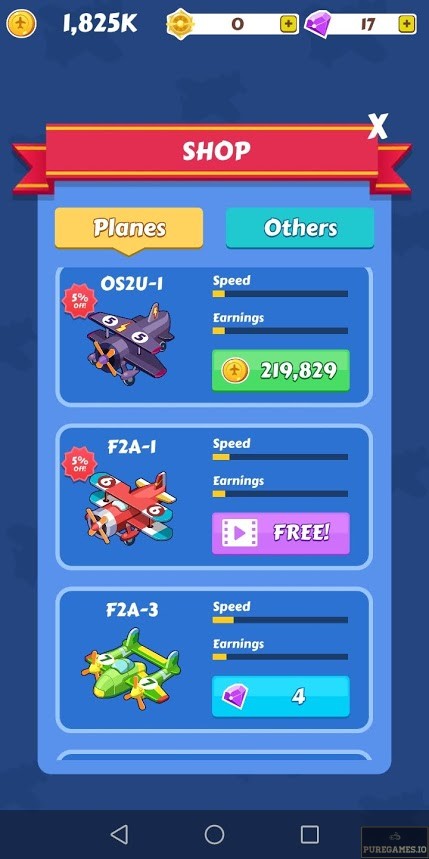 You can always buy airplanes in the shop, usually all up to the two levels below the highest you have unlocked. With each plane bought, every new one will cost more, and more. Coins can also be exchanged for tokens, which you use to upgrade your airline company. You can either upgrade the runway, increasing your earnings, or you can buy a card which gives you a permanent discount on your airplanes. Also, watch out for UFOs flying around, if you manage to catch them (tap on them) you'll be offered a special bonus for a special price. From time to time you can spin the wheel or watch an ad to earn even more coins and rubies. Random pop-out ads are frequent also. Enjoy your endless and pointless grinding.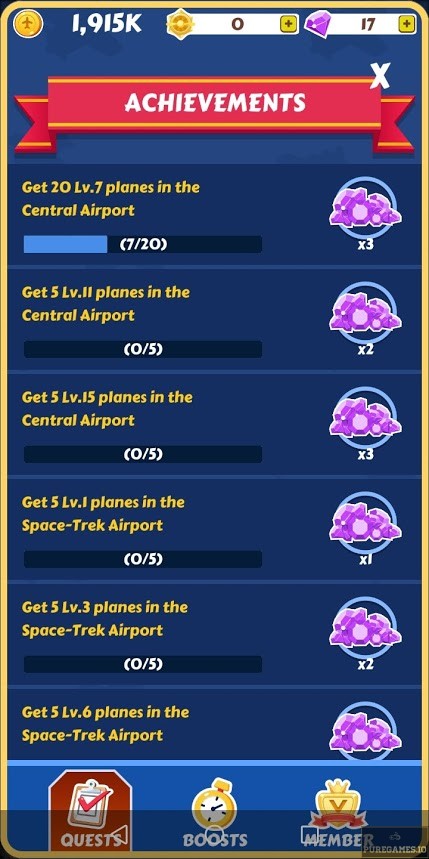 Presentation
It looks good, even better than Car Merger. The models somehow remind me of Wacky Races, but with planes, obviously. Even your assistant, which refers to you as the captain somehow looks nice. The effects are shiny and all over the place, and the music is quite interesting too. It sets up the pace and the mood when you activate a certain boost, increasing in tempo, making you feel like something important is happening. Sound effects are decent, too. Overall, pretty and well done, kid friendly too, but nothing extraordinary.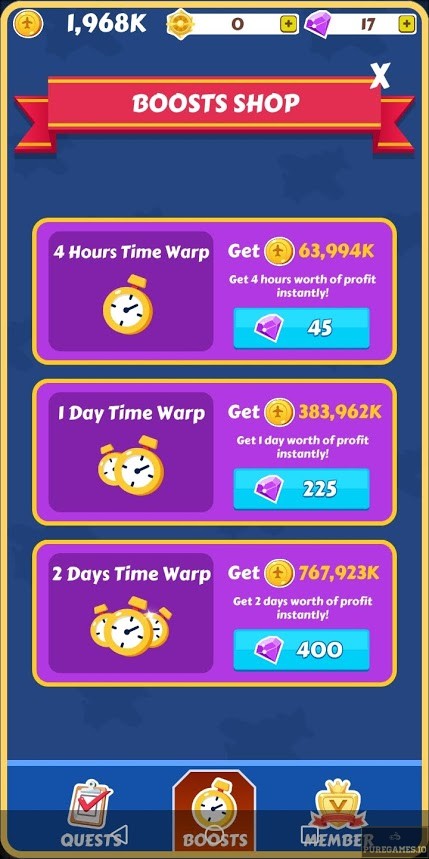 The Review
Review Breakdown
I gave Car Merger a 3.0, this one deserves half a star more for some additional features. They help the game to be fun a little longer, by giving you something to pursue, but it also wears off eventually.