| | |
| --- | --- |
| Publisher | Gameloft |
| Platforms | Android 4.0.3 and up |
| Price | Free |
| Size | 82M |
| Latest Version | 1.7.1a |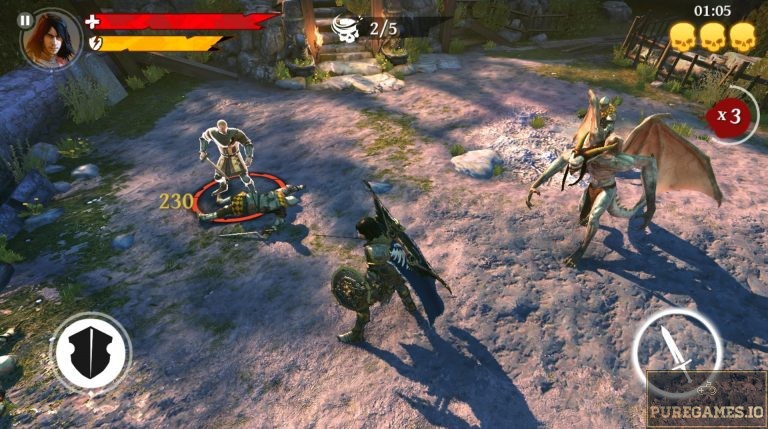 Embark yourself in an epic medieval adventure with Iron Blade. One of the latest offerings from Gameloft! Iron Blade is generally a hack and slash RPG that follows a journey of Damien and his mission to avenge your friend Jacques. The game will soon progress to some action-packed battle that will definitely put your skills on a great test. The goal is to guide your character all throughout the levels and clear all mission by eliminating every single enemy who will stand along your way. If you're looking for an impressive RPG with sweet graphics and remarkable gameplay, download Iron Blade and let your epic journey begins!
Interestingly, Iron Blade welcomes you with dramatic introduction. It features Flora De Rosi as she writes down a letter to Jacques to inform him about the current situation of the Order. Jacques was accompanied by his protege Damien apparently died during the mission. He sent Damien instead to fulfill his duty on his behalf. Iron Blade has some notable Assassin's Creed touch on it but still special on its own. If you think you are skillful enough to win this game, feel free to download Iron Blade and see how far you can go.
The Gameplay
The game generally features a simple yet surprisingly tricky mechanics. As soon as the game starts, it prompts you right away to the battlefield. The game works the same way with a traditional hack and slash game. It gives you an impressive 3D third person perspective adorned with visually stunning graphics. As soon as the battle starts, you perform basic attack by tapping the sword icon on the right side. Evade bigger damage by blocking their attack by tapping the shield icon on the left.
Eventually, you will get the ability to wield other weapons. There's a secondary weapon that you can activate by tapping its respective button. You can also use Bow and arrow for range attacks. The combat system is quite tricky and challenging when you perform it manually. You can however activate the Auto Fight to make it less complicated. Interestingly even when you engage your character on an Auto Fight mode, you can still interact by tapping the special skills which you learn along the way.
Collect and Upgrade Weapons and Armors
One of things you will enjoy when you download Iron Blade is the overwhelming amount of items you can potentially unlock.  Every successful mission allows you to earn rewards. These rewards can be in form of new armor, weapons, chest key, gold and many more. From the main menu, you can enter the Inventory which gives you access to your Hero, Armor and Weapons, Materials, Troops and Boosters. You can assign new weapons and armors by heading to your Hero panel Here, you can optimize the character and change his equipment before heading to the battle.
In addition to that, players have the ability to upgrade weapons and armors individually. There an option to fuse your current weapon to other items from your inventory. It is also advisable to fuse items of the same rarity and skill for a much more satisfying result. Take note that the rate of difficulty will increase as you progress so make sure you arm yourself with powerful weapons to maximize your chances in winning.
Defend Fortress with Troops and Explore Daily Dungeons
Other things you will enjoy when you download Iron Blade are the other equally-enticing campaigns. After completing the chapter 2 of the Main campaign, you'll unlock other campaigns like Fortress, Daily Dungeons and Tower of Trials. Legacy Tower on the other hand will become accessible after completing Chapter 3. Fortress is the campaign where you need to defend your own territory or attack another player to earn rewards. In this campaign, you need to summon your own troops to protect your fortress. You can invite or add a member on your troop by unlocking them from the main campaign. While the troops are assigned to protect the fortress, Damien can attack another player's fortress. This is basically the game's Multiplayer campaign.
You can also explore the Daily Dungeon in which you will fight against an overwhelming amount of enemies in one battlefield. Your goal is to eliminate them all and survive to earn the great rewards in return. Tower and Trials and Legacy Tower are both equally enjoying too while giving you decent amount of action and fun!
Verdict
Iron Blade is truly an impressive mobile game in many levels. It will certainly put all action gamers in great delight. The game features a solid combat system, it has impressive graphics, a compelling plot and well-polished gameplay that everyone will enjoy. If you're looking for a great hack-and-slash experience, Iron Blade is truly a perfect fit!
Download Iron Blade