| | |
| --- | --- |
| Publisher | Square Enix ltd |
| Platforms | Android 4.1 and up |
| Price | $0.54 |
| Size | 1.1 GB |
| Latest Version | 1.7.110758 |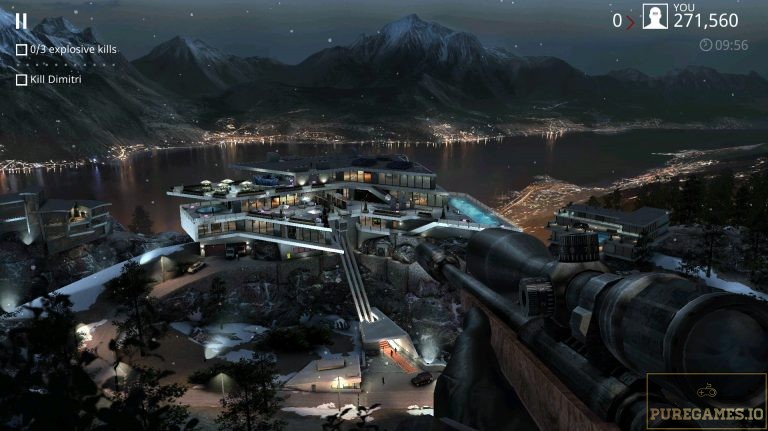 Have you ever thought of becoming the world's greatest assassin? How about playing the role of the well-known Agent 47? If you are an big fan of the Hitman video game series, you can finally experience the action on your mobile through Hitman Sniper. Hitman Sniper by Square Enix is generally the second game from the franchise created for mobile. Unlike Hitman Go, Hitman Sniper is not a turn-based puzzle but more of a first person shooter. As what the title suggests, you play the role of Agent 47  with a main mission to act as a sniper and eliminate all targets from afar without getting caught. If you enjoy the series, you better download Hitman Sniper and start your epic mission.
Although the game features an entirely different gameplay, Hitman Sniper remains faithful to its theme. The game retains the style and essence of Agent 47 much like the game's predecessor. The mission is generally simple, be the best sniper and accomplish your given task as quick and as smooth as possible. If you think you have what it takes, feel free to download Hitman Sniper and see how far your skills can take you.
The Gameplay
The mechanics are generally simple yet the game requires players to be extremely observant and pay attention to any suspicious movements around your target area. Here's how the game works. As soon as the game begins, it prompts you right away to Montenegro, your first assigned location. Each mission follows a list of objectives that you must accomplish. Some objectives will ask you to kill certain amount of targets or collect certain amount of score. The main goal is to kill a high-profile target which often concludes all missions.
Please be mindful that when you download Hitman Sniper, you are playing a First Person Shooter rather than the game's traditional gameplay. To start, magnify the view by tapping the screen twice. This will give you a closer look of the location through your rifle's lens. Swipe the screen to look and observe around or better yet pinch the screen to get a much closer perspective. Your main score depends on your overall performance. Make sure not to get caught or break your stealth line and do not kill civilians as they can affect your overall score.
Become The Ultimate Assassin
The game might be way far different from the previous Hitman game but it still shares a common goal, to become the ultimate assassin. One thing you will love when you download Hitman Sniper is how they remained faithful on what Hitman series is all about. Stealth is still the main focus of this game. Even though you are way too far from the target area, you should try not to get caught at all cost. In most cases, the game will ask you to be very creative and skillful with your mission. You must find ways to eliminate targets without alerting nearby civilians.
Some mission requires you to use a secondary object to draw the attention of your target. Hitting a car for an instance will activate its alarm which forces the target to examine. This gives you the opportunity to hit and eliminate the target. As far as your safety is concerned, there will be no counterattack or anything to harm you. However, if you triggered the alarm and create a panic on your target location, you'll end up failing the entire mission.
Upgrade Weapons
Another thing you will enjoy when you download Hitman Sniper is the ability to collect weapon parts and upgrade them into their full potential. After each successful mission, you will earn rewards which can be in form of virtual currency and some weapon parts that you can collect. Players can also upgrade their weapons and improve their respective attributes. Upgrading weapons will increase the Fire Rate, Stability, Clip Size and Max Zoom. Each weapon comes with special abilities too that you can full take advantage with.
Take note that most weapons can only be unlocked by collecting their parts. You need to collect all parts to complete their blueprint to unlock the entire weapon. Players can also obtain special weapons through some bonuses. You can unlock some special weapons in many ways; watch rewarded videos, play and reach certain ranks or add a friend.
Death Valley
One of the best additions in Hitman Sniper is the Death Valley. Unlike your main mission, Death Valley is a horror survival campaign. It remains to be a first person shooter but instead of human targets, you will be dealing with zombies. Some mission might ask you to protect certain targets and prevent them from being killed. This mode can be unlocked after completing the first six Montenegro missions. Take note that it requires additional capacity so if you download Hitman Sniper, make sure you have enough space for it!
Verdict
Hitman Sniper is truly a great game. It might be different from the traditional Hitman series but you'll appreciate the fact that they still make this FPS game true to its Hitman series fashion. The graphics are impressive yet the map is quite repetitive. You'll end up exploring the same location for a series of mission. The addition of Death Valley campaign though gives you another reason to enjoy this game! Also there's an option to share a game replay on your social media too! Good luck and have fun!
Download Hitman Sniper