| | |
| --- | --- |
| Publisher | SEGA |
| Platforms | Android 4.4 and up |
| Price | Free |
| Size | 39 MB |
| Latest Version | 1.0.0 |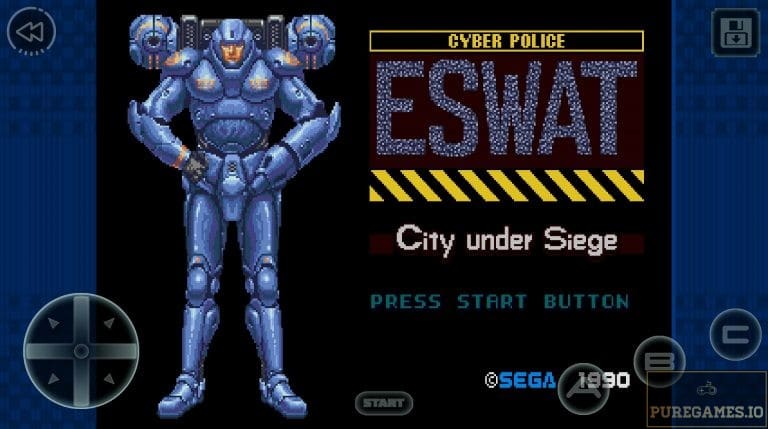 It's always a great experience to play those classic games from old consoles. Recently we came across this mobile app that features a classic SEGA Genesis game – the ESWAT: City Under Siege. ESWAT may not be as impactful as Sonic The Hedgehog, Contra or even the Streets of Rage but those who grew up with Sega Genesis console will still remember it. Take note that this game is not emulation but officially published by SEGA. This 1990 Side Scrolling adventure game will definitely give you a nostalgic experience. Feel free to download ESWAT City Under Siege on your mobile and let an epic retrospective journey begins!
If you are well familiar with the ESWAT, then this mobile game will definitely ring a bell. It is basically the same game without any major modification except the controls. It features the same retrospective graphics and sounds and offers the same storyline. So it feels like playing a SEGA Emulator on mobile. If you want to experience this classic game, download ESWAT City Under Siege and see what else this game has to offer.
The Gameplay
The mechanics for ESWAT are simple yet surprisingly challenging that will put your skills and your patience on great test.  ESWAT clearly defines what a retrogaming looks like. It features the classic pixel-art graphics matched with the 8bit sound that provides an ultimate nostalgic experience. If there is one notable difference between the original console game and the mobile version, it is the game control. If you download ESWAT City Under Siege, you control the character using the virtual buttons.
You can navigate the 2D side scrolling screen using the virtual joystick. There are also tap-based buttons on the right simulating the real SEGA controller. It has A, B and C buttons which you can tap to perform certain actions. You jump up to another platform by tapping A and C (depends on situation) and you shoot by tapping the B button.
A Nostalgic Experience
Nostalgic! I guess there is no better word to describe this game other than being nostalgic. It follows the same plot featuring Officer Duke Oda. The game takes you to a futuristic world where you play the role of a Cyber Police Officer.  It takes place on a fictional Liberty City where your job is to take down criminals and outlaws. Eventually, you'll engage yourself in a more challenging mission as the game introduces more powerful enemies.
Your character will soon become a cyborg which provides him greater abilities. Game wise, if you download ESWAT City Under Siege, it'll reminds you of various games that share the same format. The game is closely similar with Shinobi but in a futuristic environment. It actually feels like a merge between Megaman and Contra.
Frustratingly Challenging
Playing a classic console game like ESWAT will definitely give gamers of retrogame era a huge amount of respect. The game is undeniably challenging and somewhat frustrating. First of all, the controls are truly difficult to master. The joypad is not really very responsive which makes your action a little delayed. Secondly, the players only have health points to consume. If you lose the all the health points, you'll lose a life and it forces you to go back start. Most enemies will also keep respawning which makes the game even more challenging.
To top it all, the only way to regain stamina is by collecting power ups. Unfortunately, the game is not really generous when it comes to such items. You can find them on random areas and they are not also reappearing after being collected. Generally, the rate of difficulty in this game is drastically increasing as you progress. At the end of each level are boss battles which will put your skills on an test!
The Rewind Option
One thing you will appreciate when you download ESWAT City Under Siege is the ability to rewind. The ads are cleverly added and utilized in this game. If your character dies, you have the option to rewind the last 15 seconds of your game. In exchange, you must watch a rewarded video. This particular option is infinite and is definitely a big advantage to the players.
The rewind option comes handy especially when dealing with boss battles. Another interesting option in this game is the ability to Save your progress. The player must sign in through Google Play in order to access this function. You can use up to four slots to save your game progress.
Verdict
ESWAT: City Under Siege is indeed a great game. It offers a great amount of challenge and will take you to seemingly inescapable levels. Generally, the game will absolutely give you a nostalgic gaming experience. It is a kind of game that every gamers from any generation will appreciate. The only downsides are the minor bugs and some lag issues. Other than that, it is definitely worth playing!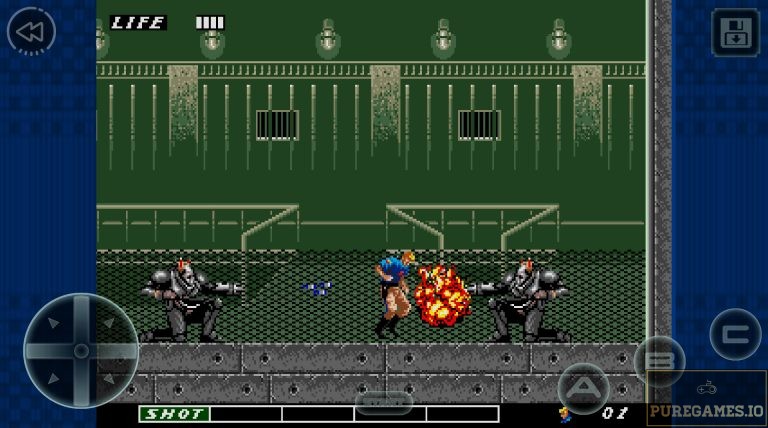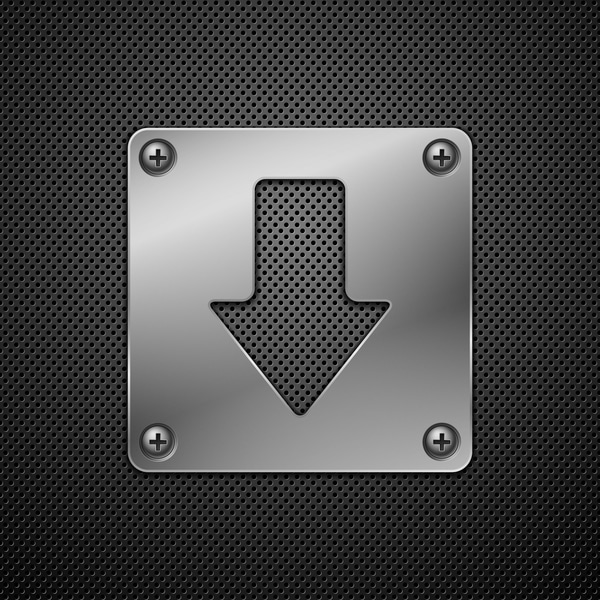 Download ESWAT: City Under Siege APK for Android/iOS
Select a file to download:
Download ESWAT: City Under Siege v1.1.2 APK