Publisher
Soner Kara
Platforms

Android 4.1+;

 iOS; Windows Phone

Price

Free

Size
53 MB
Latest Version
2.5
Do you see yourself as a Traffic Racer? If not on the road, then at least on your mobile phone? Try out things you always wanted, without risking your life.
Overview
Traffic Racer offers a unique driving experience, which knowingly oscillates between a racing and a driving simulation title. It's set on the regular roads with everyday traffic. Your goal is to carefully steer between the slow drivers, going on their own commute. As long as you don't hit hard someone from the back, you are good to go (continue). Achieve high scores, earn money, and unlock new cars, or upgrade existing ones. The game features more than thirty five different cars, including all driving categories, from family and small cars, to sports models and big pickups, trucks and jeeps. Heck, you can even buy a police car and, by doing that, unlock the special game mode: police chase. But beware, the police car is pretty expensive, so prepare yourself for some grinding.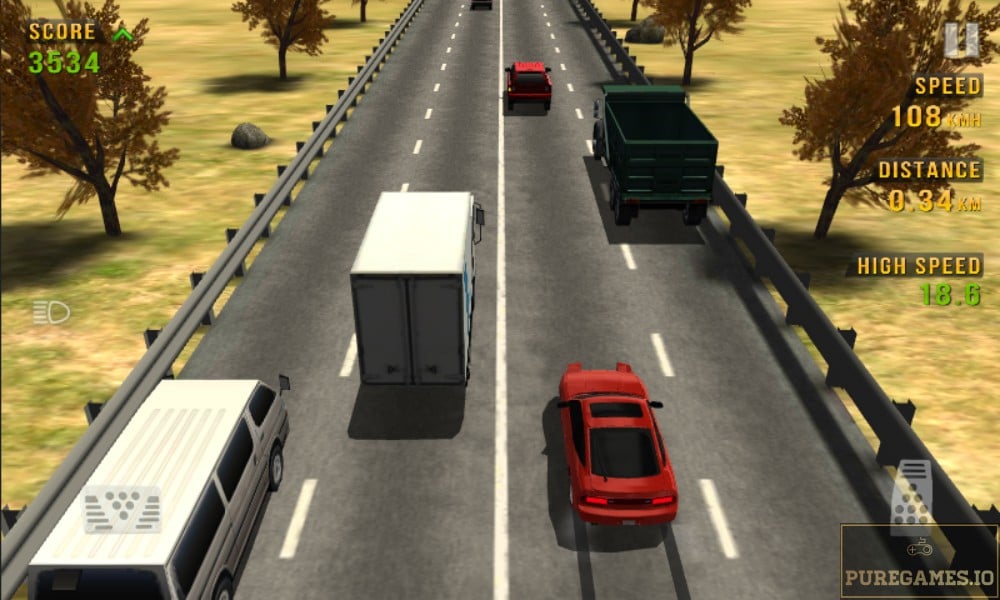 Gameplay and game modes
You can choose between four different, regular modes: endless one-way, endless two-way, time trial and free ride. Two-way is a bit more challenging, but also, bit more fun. In each of the modes you get extra points for driving fast, and close overtakes. In two-way mode, there is one more method to earn more points: to drive on the opposite track. Exactly this one makes it so fun and adrenaline pumping – risky success! If you hit someone hard in the endless mode, it's game over. So, this option requires a bit more careful and cunning playstyle. Especially because of traffic density and AI difficulty increasing over time. Often you'll see several vehicles, preparing a trap ahead, by suddenly braking, or changing lanes.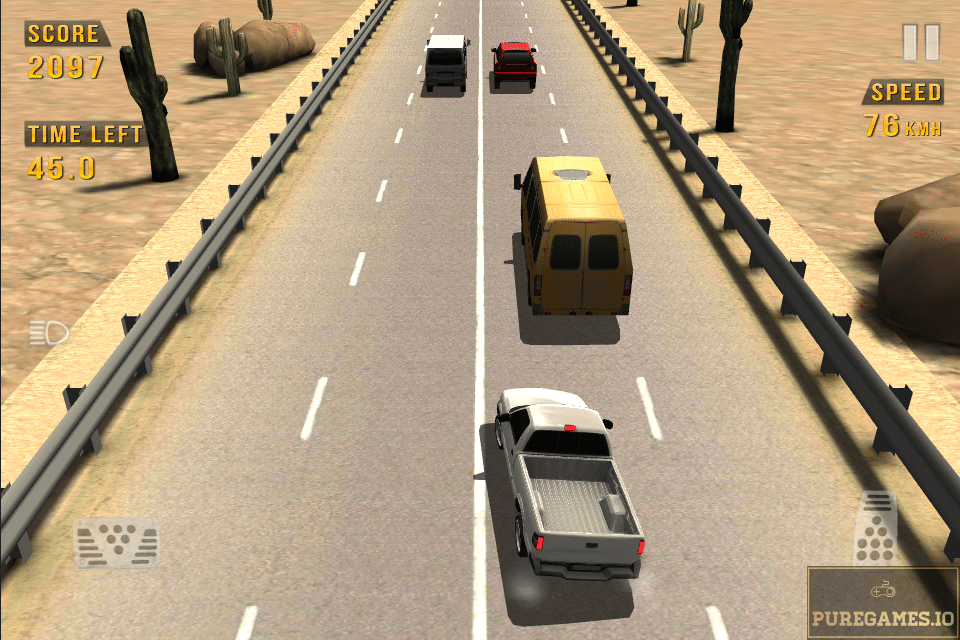 Time trial mode, however, offers you carefree experience. Drive as fast as possible and don't care for the traffic much. If you hit someone, you'll respawn and accelerate to previous speed pretty soon. But, when time runs out – it's game over! If you get tired of competition, there is always the free ride mode, in which you can try out new cars, driving techniques, or simply chill down the road. Last, but not least, there is a daily challenge mode. I had the chance to play only one and it was crazy! It was a time trial challenge, but with an Ambulance car! Make sure to try all of these.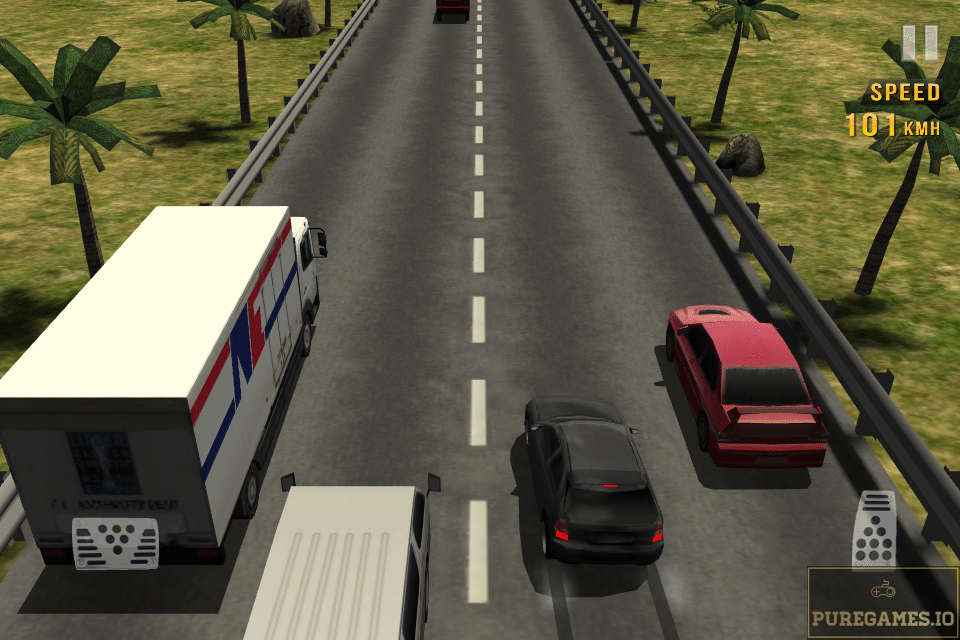 Controls
The steering system in this game is brilliant! The player can switch between three options: tilt, touch and analog. All of them are done with such care, that I can't actually tell which one to choose. Whatever decision you make, I believe you'll experience one of the smoothest and most precise drives in mobile games. Touch and analog require you to employ your right finger for gas and brakes both, while you steer with your left. By using tilt, left finger will be intended for braking, and right for gas. This way, you'll find it easier to honk the car horn. It doesn't benefit your score at all, but it sure is a hell of a fun! This title even features the left-hand traffic option! Everything fits together with a neat and somewhat realistic physics system, which offers a really tense and engaging experience.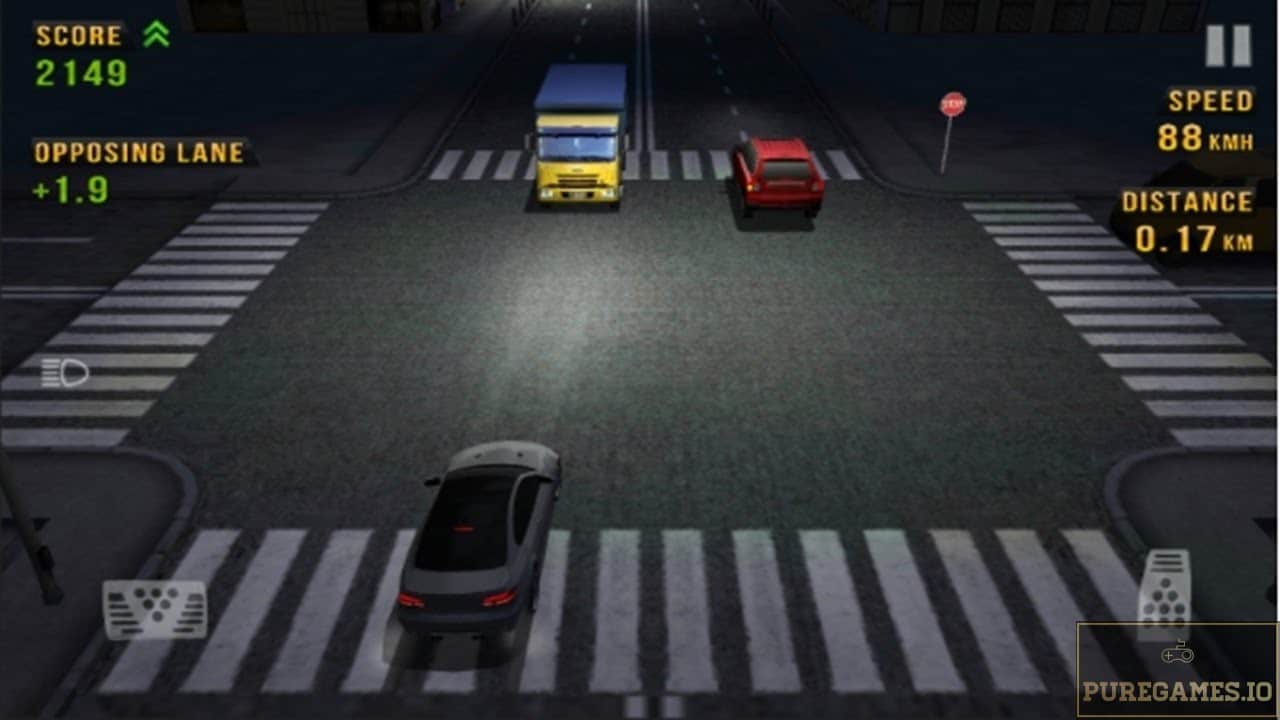 Presentation and customization
You can find yourself driving in five different surroundings: suburb, desert, snowy, rain and city night. Each of them has a unique flavor and atmosphere, which could influence the outcome of your driving session. Suburb and desert are available right away, while you have to spend some cash to unlock other three. Same goes for the cars and their customization elements. First two are free, but for the rest, you'll required to pay with in-game money. You can edit your automobile in a cosmetic way by choosing its color, wheels and stickers. Most of those have to be bought, however. As of performance stats, there is speed/acceleration, handling and braking. You can increase these, well, you guessed it, by using money!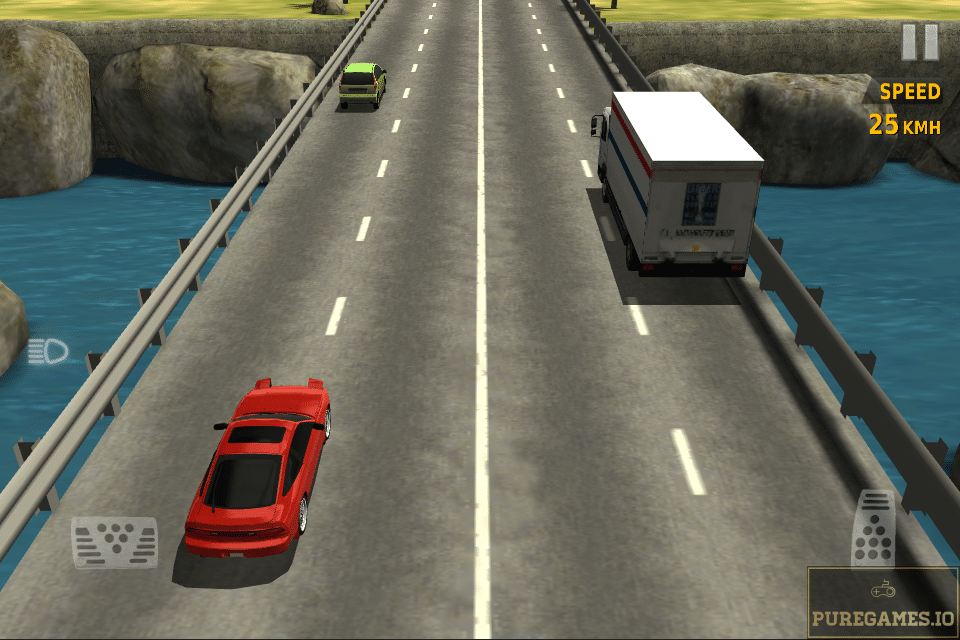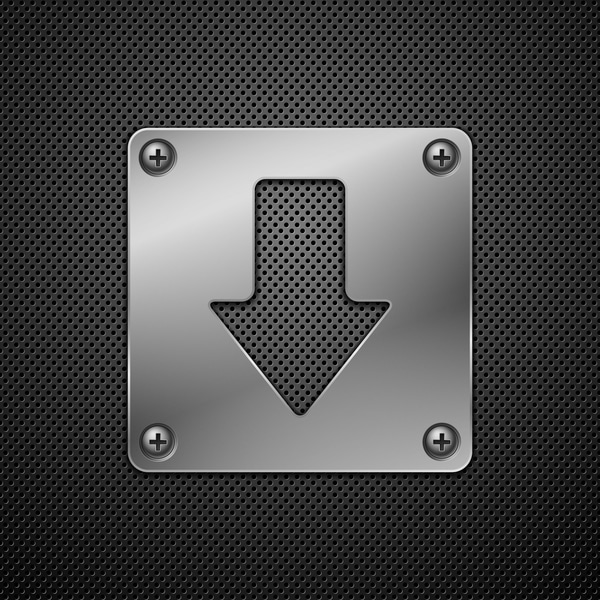 Download Traffic Racer APK for Android/iOS
Select a file to download:
Download Traffic Racer v2.5 APK