| | |
| --- | --- |
| Publisher | Playrix Games |
| Platforms | Android 4.0.3 and up |
| Price | Free |
| Size | Varies with device |
| Latest Version | 1.7.1.900 |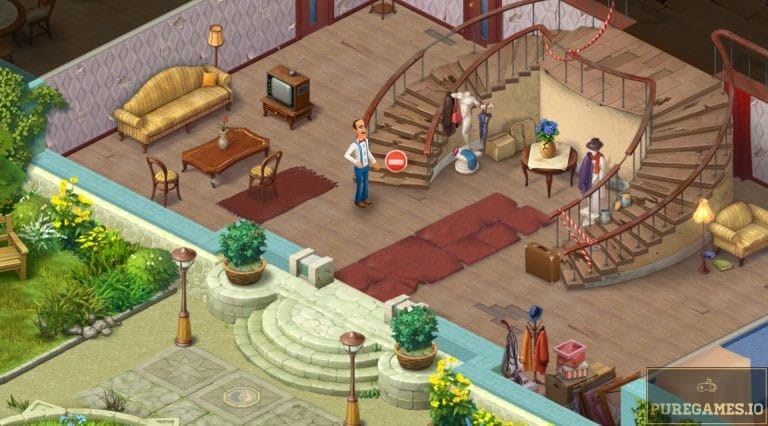 From the makers of successful casual games like Fishdom, Farmescapes, Gardenscapes and Barnyarn comes another equally addictive casual game. Homescapes is the newest addition to the ever growing collection of Playrix games. Homescapes will introduce us again to Austin, the trusty butler and main character of the Gardenscapes series. Just like the rest of the casual games by Playrix,Homescapes follows the same concept but in a different yet equally engaging theme.
The game will give us a closer look to Austin's colorful past as he return in his old home. His parents are deciding to sell the old house which they inherit from their grandpa but Austin is not in favor of it. In order to convince his parents not to sell the house, he must try his best to renovate the house. He must use his use the best of his skills to bring their home back to its former glory.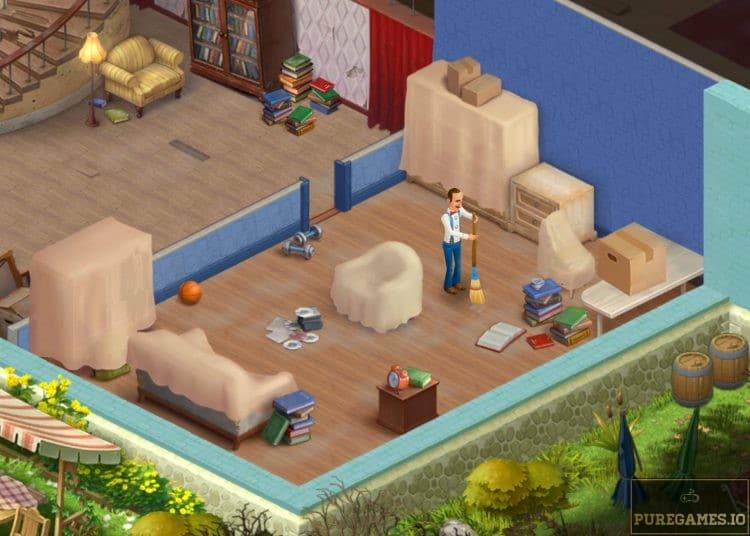 The Gameplay
For those who are aware of the Gardenscapes series, Homescapes follows the same mechanics and gameplay. Your mission is to help Austin renovate the house. Interestingly, the game takes you to two different phases. The first one is the Decorating Phase where you try to improve the rooms and the furniture one after another. The second phase welcomes you in a fun Match-3 puzzle. Players must pass through both phases alternately.
The Decorating part will not offer much interaction but each item comes in different varieties and you can customize the room based on your preferences. This is also the part where story and dialogues are being thrown. The actual challenge in this game comes in with the Puzzle. The tile matching puzzle is merely inspired from Bejeweled and Candy Crush Saga. It takes you to a series of challenging match-3 puzzles with increasing rate of difficulty.
Completing each puzzle grants you with coins and a Star which is exactly what you need to accomplish a task. The tasks will become more and more demanding as you progress which also makes the puzzles more challenging.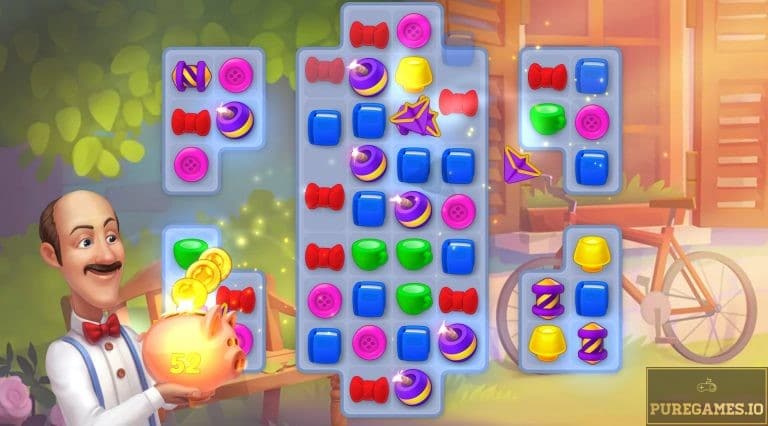 A Classic Tile Matching Experience
The early edition of Gardenscapes features Hidden-Object puzzles instead of Match 3. Interestingly Homescapes embraces the tile matching puzzle as it offers more challenge. Each level prompts you to different puzzles of different sizes and levels of difficulty. It's basically a classic tile matching gameplay where players should match 3 or more identical tiles to remove them from the grid.
Players will encounter two different objectives in the game. The level will either ask you to collect certain number of specific tiles or cover the grid with grasses. You can also take advantage of the power ups which you can obtain by matching four or more identical tiles. These power ups allow you to clear an entire row or column or destroy nearby tiles.
Players can also use the special Boosters like the Hammer that allows you to break a tile without losing a move or the Glove that allows you to swap tiles. You can obtain these boosters by paying coins (virtual currency).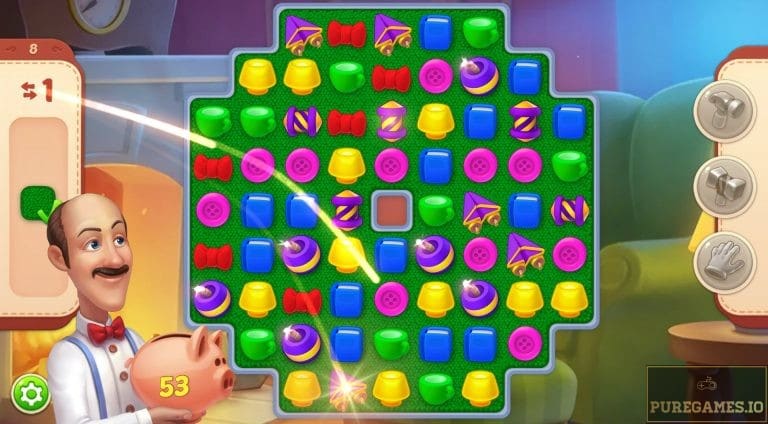 Lives System and Bonuses
The game also introduces you to Lives system similar to Candy Crush Sage. You lose a life when you failed to clear the level. You have a maximum of five lives to spare and each of them refills every 30 minutes. Therefore, you have a total of 150 minutes to fill up your lives meter.
Players can instantly obtain Life by asking them from your friends. This is the reason why it is ideal to connect the game to your Facebook account so you can collect lives faster. The virtual coins, on the other hand, are used to purchase Boosters and this is also where the Microtransaction comes in.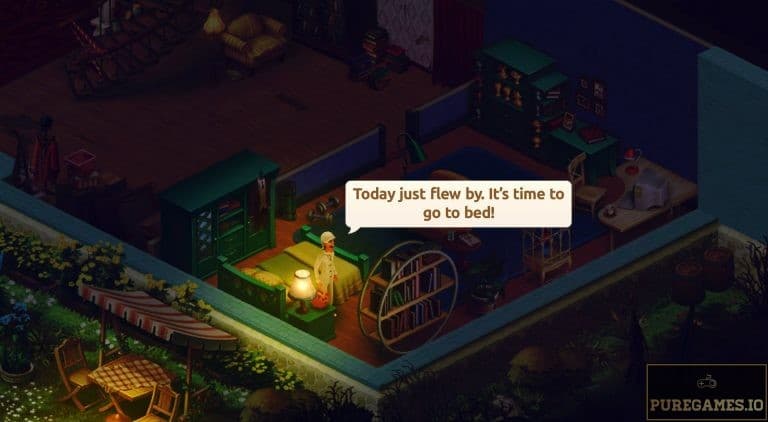 Verdict
Homescapes may not be entirely different from its predecessors but still an interesting addition to your game list. It is simple, fun and undeniably addictive. It also offers great longevity but somehow lacks of replay value. The game also treats you with superb visuals, compelling plot and relaxing music that sets the mood right.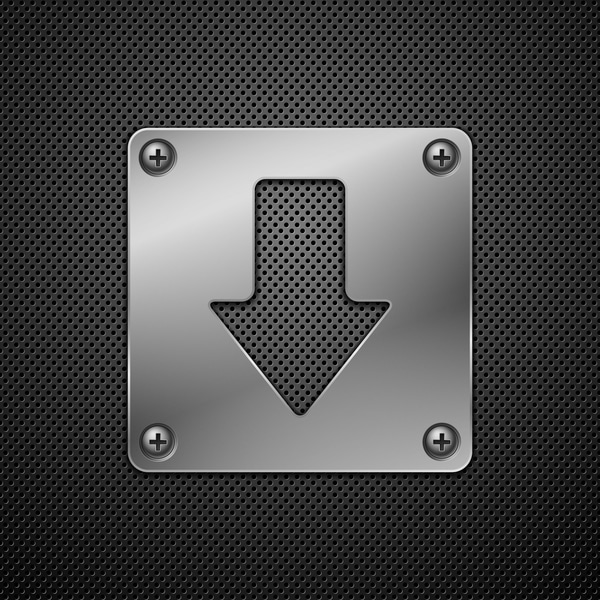 Download Homescapes APK for Android/iOS
Select a file to download:
Download Homescapes v1.7.1.900 APK