Knife Hit is a free app (with in-app purchases) that lets your "throw" knives at a rotating tree log. You need to stick all your knives to the log in order to "break" each one, and each time you advance, you get a chance to face a boss after a certain level and unlock difference kinds of knives. Knife throwers also have access to apples that they get from daily log-ins or from advancing through the stages. These apples can also be used to unlock new styles of knives.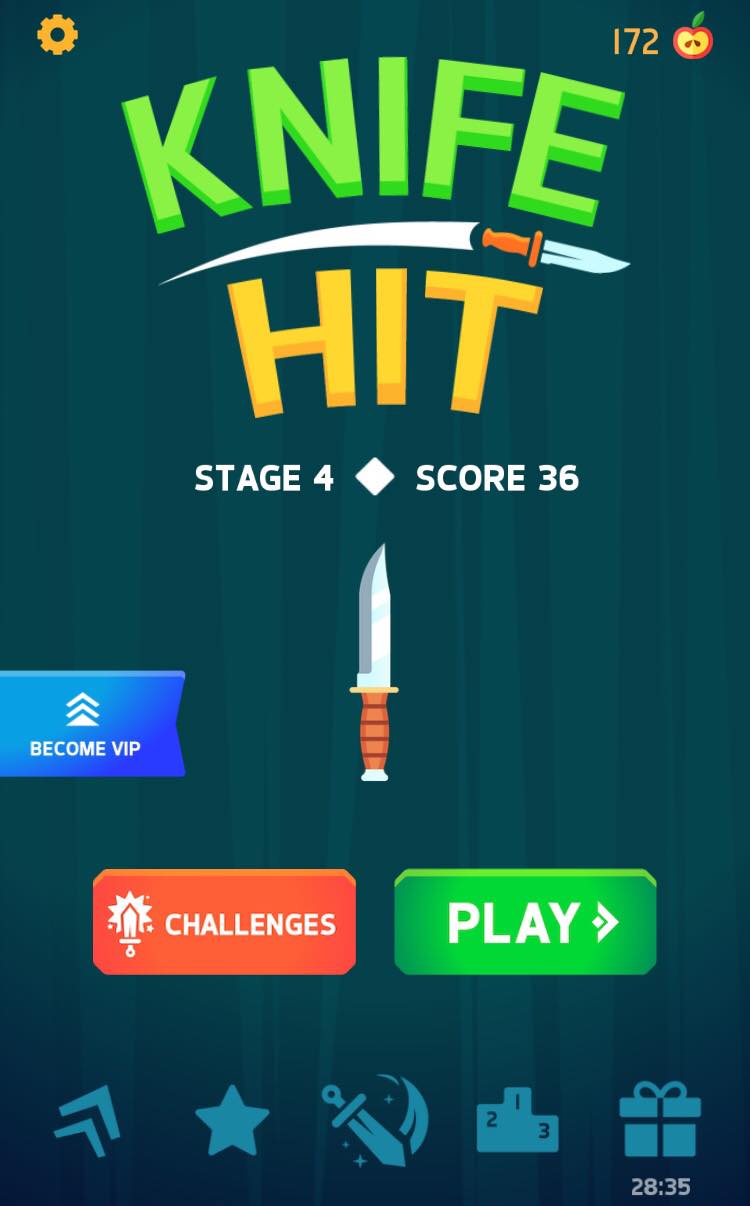 The Gameplay
It's a relatively easy game that anyone can learn in as little as 2 minutes. You just have to tap the screen to "throw" a knife at the log. Once you've successfully thrown all your knives into the log, you "break" the log and move on to the next stage.
The log seems rotates at a random pace, but it actually depends on the weight distribution of the knives you've stuck to the log. You have to time where you throw each knife so you get an open spot on the log. This is an important part because if you hit another knife, the round ends and you go back to level 1. You can continue where you left off, but you will have to watch through a 30-second advert to do so.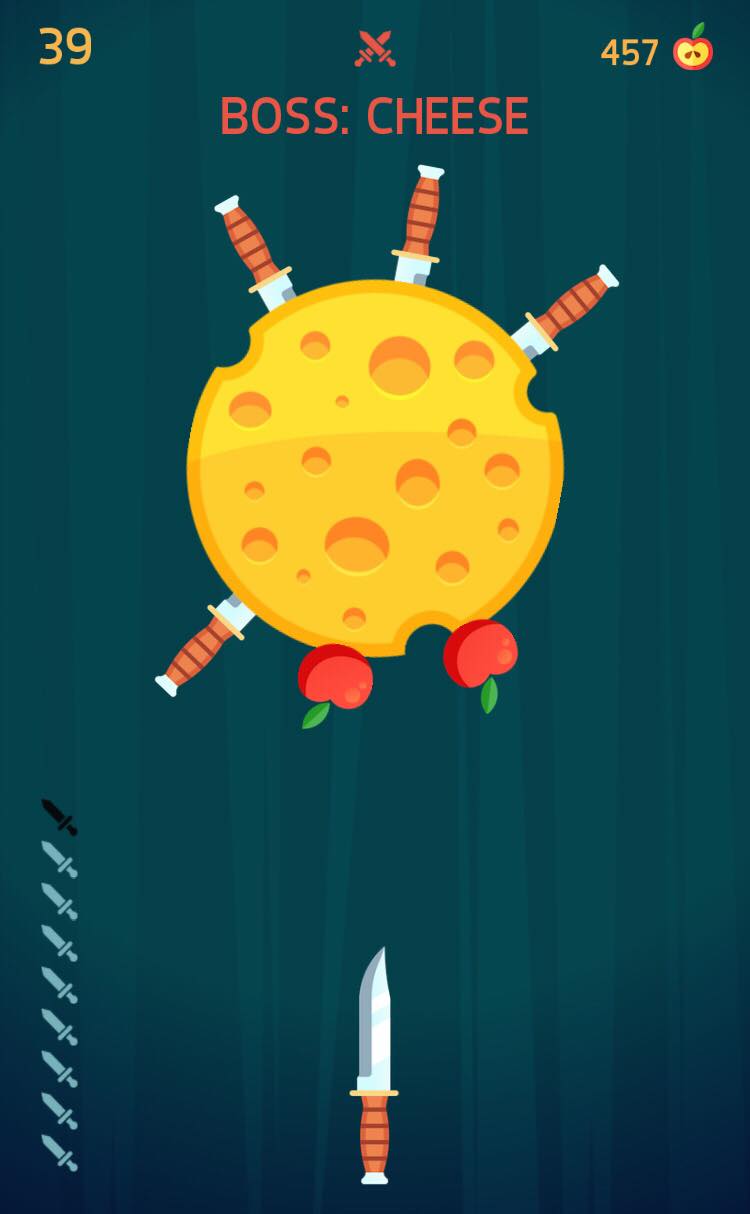 Challenges
Aside from the main game, there are also challenges, which are smaller games with incrementally increasing difficulty. These challenges are another way to get more apples, which in turn gets you more access to more knife designs. There are also additional knives that you can only get by completing these challenges.
Knife Store
Knife Hit centers on the knives that you use for the game, and there is emphasis on the different kinds of knives that you can use. The knife store is where you can purchase new knife designs with the apples that you have collected through completing challenges and defeating level bosses. You can also buy exclusive knife packs with in-app purchases.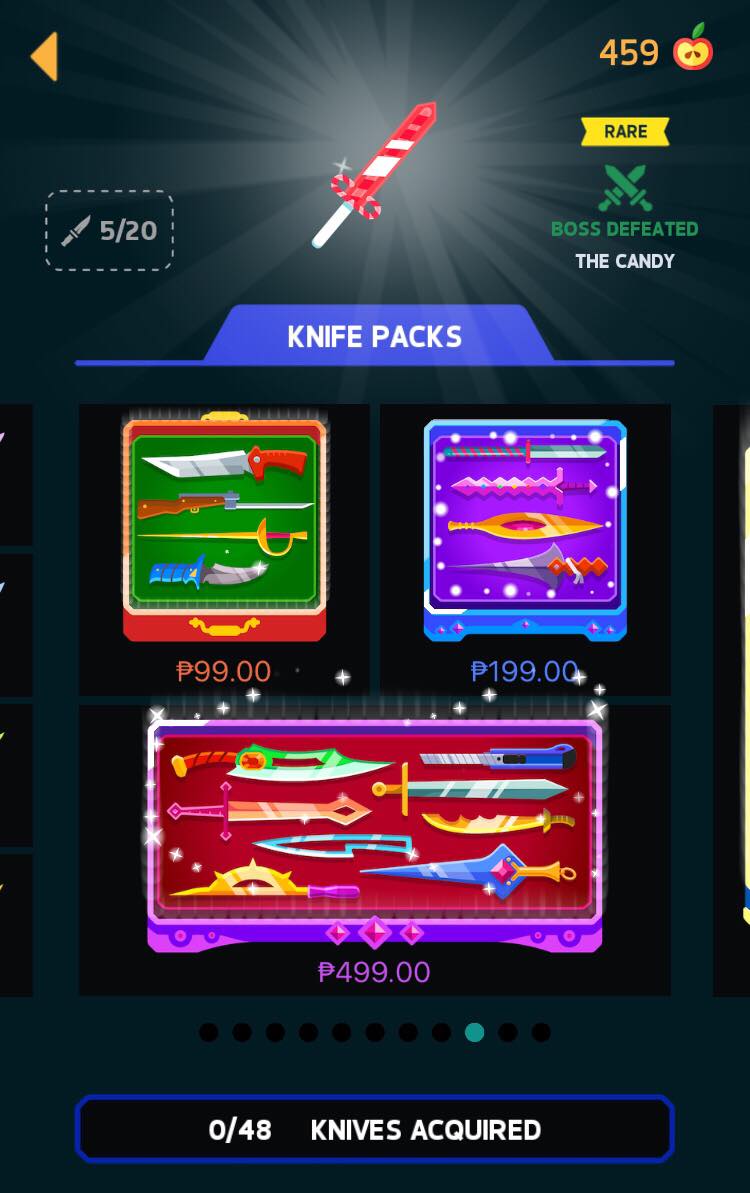 Daily Rewards
The currency for this game is the apples on the logs that you slice with your knives. You can collect quite a bunch of apples by simply playing the game. You also get rewarded each day (or every 30 hours) with a decent amount of apples.
VIP
The game also features a VIP subscription that offers even more apples, more experience in defeating bosses, and the removal all ads. Ironically, the most tempting feature of the VIP sub is the removal of ads. Ads are part of any game, but the ads here seem to pop up at odds times and sometimes even during gameplay. And it's not just ads you see on the sides of background; sometimes there are arduous full 30-second advertisements.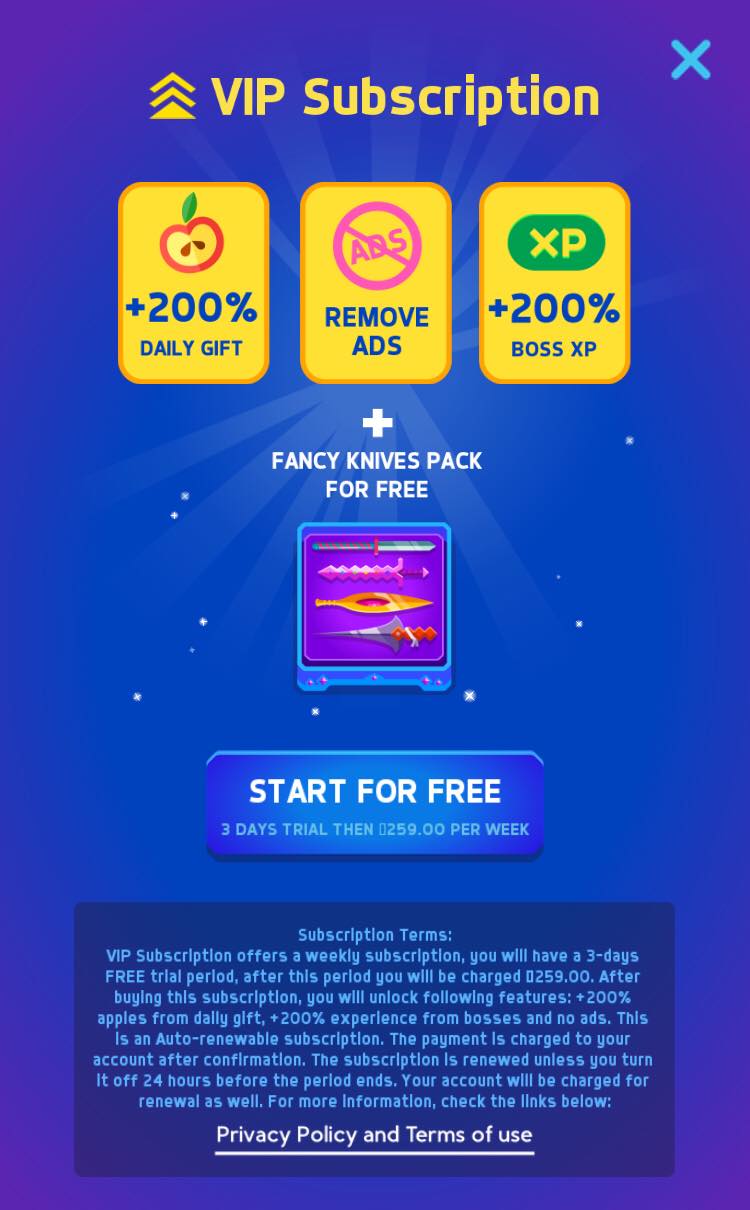 Conclusion
Knife hit is a simple yet addicting game that you can play when waiting in line or commuting to work or school. There's an oddly satisfying feeling with each successful "chunk" sound when the knife hits the log. It doesn't involve much interaction, all you really need is a thumb to tap and throw the knives. So if you get a call or get to your stop, you won't feel that bad closing the app and pocketing your device.
It is also a great offline game that you can play when in a dead spot. It can be addicting to collect all the knives of the games (over 150 kinds), but you can also grind it out and still have a decent knife collection. Its simple and entertaining game that can cut through hours of boredom.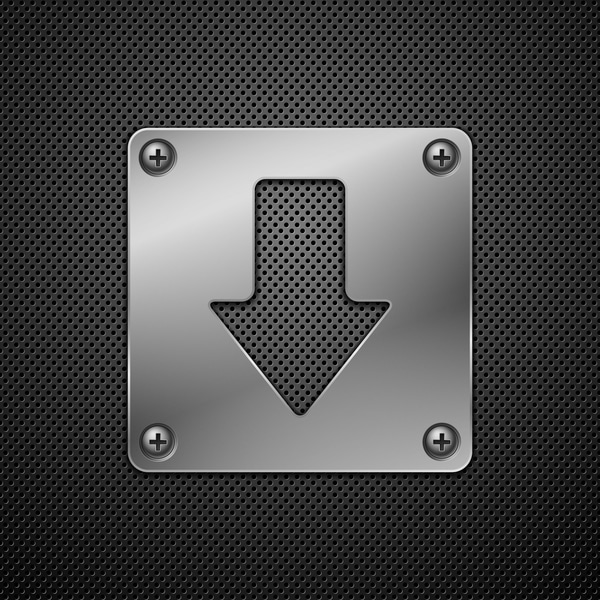 Download Knife Hit APK for Android/iOS
Select a file to download: